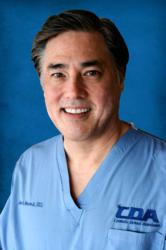 A patient who focuses on finding a truly gentle dentist – with advanced skills and a dedication to the needs of individual patients – can find a pain-free, no-fear experience that might well save their overall health, or even life.
San Antonio, TX (PRWEB) June 17, 2011
Most Americans are afraid of dentists, and many put off necessary dental treatment until it becomes an emergency, according to veteran San Antonio cosmetic dentist Dr. John Moore, DDS.
According to a study by the American Association of Endodontists, 80 percent of Americans have dental fears, and 50 percent say the fears are powerful enough to make them hesitant to visit the dentist.
"Unfortunately, poor oral health and loss of teeth is linked to serious, life-threatening conditions, including heart disease, strokes and diabetes," Moore said. "So it's important for both patients and dentists to promote a 'No Fear' gentle dental philosophy."
Moore, whose Cosmetic Dental Associates champions a 'gentle dental' mission, notes that many dental fears stem from misconceptions, third-party horror stories or experience with less-skilled dentists. Baby Boomers and older patients also may have had painful experiences with less-advanced dentistry from the past.
Some common fears include:

Fear of pain
Fear of equipment – drills, needles, etc.
Embarrassment over the state of the teeth
Loss of control – being helpless in the dentist's chair
Fear of expense of dental care
Fear of the environment – sights, sounds, smells
Fear of gagging or choking
Fear of panic attacks or crying
"Dental work should not be scary or painful, and people should not need the oral or IV drugs of so-called 'sedation dentistry'," Moore said. "A gentle dentist - a skilled, caring expert - should provide open communication and be proactive about each patient's needs, overcoming their fears by recognizing them and being sensitive and responsive."
"Many dentists do not have these skills – either technological or emotionally – and it may be easier to use sedatives, rather than deal with an alert patient."
Patients who are suffering from dental fears should take steps up front to be well-informed and prepared. Moore offers these tips for overcoming many dental fears:
1) Analyze the fears – It's crucial to understand what you're afraid of, whether it's the pain of past dental procedures, the dental office atmosphere, embarrassment, etc. Not getting dental care could well have life-threatening implications, and the first step is to understand your own fears. Be prepared to be honest with the dentist about your fears.
2) Shop for a gentle, no-fear dentis t – There is a wide range of skill levels and chair-side manners among dentists. It's important for the patient to shop for a dentist who is open about dental fears, and is willing to take the time to make you comfortable, answer your questions and be instantly responsive to what is happening to you in the dental chair. Ask friends and family for recommendations for dentists who are kind and caring, and for pain-free experiences.
3) Communicate – Over the past decades medical patients have become more assertive and involved in their health care. In dental care, however, especially among patients who've been avoiding dentists, there is a tendency to be passive and intimidated. Even a dentist who is committed to gentle dental care can't read the patient's mind. Be honest about fears and ask for explanations about anything that distresses you.
4) Don't accept pain – Modern dentistry shouldn't be painful. The techniques of anesthetics have been honed to a point that a skillful dentist should be able to inject the patient smoothly and comfortably, and deaden the target tooth completely. Every patient is different, however, and may need more anesthetic, a longer wait before proceeding, topping-up injections, or application in different areas. Some dentists dismiss pain by saying that some patients can't be numbed. It's important to choose a dentist who has the level of skill and the patience to work with the patient's nerve structure and anesthetic tolerance to create a pain-free experience.
5) Bad-teeth embarrassment - It's important to understand that dentists see worst-case scenarios regularly. The dentist you choose will not be shocked at your teeth, and should not be judgmental. You don't need lectures, you need solutions. You should make sure your dentist is committed to treating you professionally.
6) Relax with music - Instead of focusing on fears, close your eyes and take deep, slow breaths, concentrating on the inhalations and exhalations. If the sights and sounds of the dental procedure bother you, bring headphones and an MP3 player. Most dentists allow this. Close your eyes, turn up the music up and focus on the lyrics.
7) Get regular care – One of the reasons people fear the dentist is that they wait far too long to get needed work. When the visit does come, the amount of work can be overwhelming. By visiting the dentist regularly, the size of the job comes in smaller chunks. Preventative work will stop problems before they reach a crisis.
8) Don't put up with it – Dental patients have the right to expect a sensitive, caring, trauma-free relationship with their dentist. Unfortunately many dentists don't have the empathy or commitment to this level of patient relationship. Patients should feel free to keep shopping for a dentist who fits their needs; they shouldn't just endure an unhappy situation.
"Dental fears are real, and we should never dismiss them." Moore said. "But a patient who focuses on finding a truly gentle dentist – with advanced skills and a dedication to the needs of individual patients – can find a pain-free, no-fear experience that might well save their overall health, or even life."
About Dr. Moore
Dr. John Moore, DDS, has been practicing dentistry in San Antonio for more than 25 years, and his credits include serving as an assistant professor of dentistry at the University of Texas Health Science Center in San Antonio. He is a prolific lecturer and published writer, and has won numerous awards, including being voted into America's Top Dentists in Cosmetic Dentistry and honored as San Antonio's Top Dentist in Cosmetic Dentistry.
Contact Information:
Dr. John Moore, DDS
Cosmetic Dental Associates
5837 Babcock Rd. San Antonio, TX 78240
Phone 210-337-6453
http://33smile.com
# # #