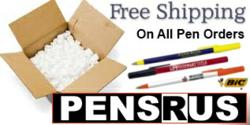 New York, NY (PRWEB) June 16, 2011
In response to the growing demand for custom BIC magnets from business professionals nationwide, PENSRUS is offering extreme savings on a wider selection of custom BIC magnets. PENSRUS, a leading distributor of custom http://store.pensrus.com/Merchant2/merchant.mvc?Screen=CTGY&Category_Code=SCRIPTO&?s=prweb [writing instruments __title__ writing instruments], branding items, and personalized products, has been a mainstay in the promotional products industry for over 50 years.
Business professionals who are looking to increase brand awareness in a creative way, should consider BIC magnets. Available in a wide variety of styles, these giveaways are a favorite among dentists, doctors, handymen, restaurants & real estate agents everywhere. This season at PENSRUS, one will find extreme savings on custom, calendar, and dry erase BIC Magnets for every brand's needs.
"Promotional pens are no longer the only advertising tool that companies can employ to improve branding and customer awareness," states PENSRUS CEO Henry Morgan. "BIC Magnets are a fun, inexpensive, & effective way of reaching customers on a daily basis & can increase sales for businesses worldwide".
http://store.pensrus.com/Merchant2/merchant.mvc?Screen=PROD&Product_Code=PRU-BIC-MGSSM&Category_Code=BIC_MAGNETS&Product_Count=2&?s=prweb [BIC Shape Magnets __title__ BIC Shape Magnets] are consistently a favorite among customers as their fun & inventive shapes truly stand out among other dull advertising efforts. Priced as low as $0.28 a unit, marketers can choose from over 45 stock backgrounds or create their own custom design. Available in two different thicknesses, and in shapes such as business cards, hearts, cars and more, a brand's logo & contact information will be seen by potential clients every day.
Also available at PENSRUS, is the ever-popular http://store.pensrus.com/Merchant2/merchant.mvc?Screen=PROD&Product_Code=PRU-BIC-MGCLL&Category_Code=BIC_MAGNETS&Product_Count=6&?s=prweb [BIC Calendar Magnet __title__ BIC Calendar Magnet]. These marketing tools are extremely useful as advertising agents because they relay one's business information, while the customer or potential client gets use out of its scheduling capabilities. Priced as low as $0.38, every company has the opportunity to see how this particular giveaway represents an advertisement that truly never ceases.
PENSRUS is also implementing savings on the unique http://store.pensrus.com/Merchant2/merchant.mvc?Screen=PROD&Product_Code=PRU-BIC-MGDE1&Category_Code=BIC_MAGNETS&Product_Count=8&?s=prweb [BIC Dry Erase Magnet __title__ BIC Dry Erase Magnet]. The four-color process allows one to print multiple colors, all at one price and whether a client is jotting down phone messages, or writing a grocery list, a business' message will always be seen and heard, loud and clear.
For a full listing of BIC Magnets and other branding items and tradeshow favors, please visit PENSRUS.com.
About PENSRUS
PENSRUS is a world-leader in the advertiser specialty industry providing a huge assortment of personalized and promotional products including personalized pens, pencils, sticky notes, mouse pads and more. Founded in 2001 PENSRUS has helped thousands of companies increase customer loyalty and brand reach through their quality products.
Contact information:
PENSRUS
http://www.pensrus.com
800-736-7787
info(at)pensrus(dot)com
###