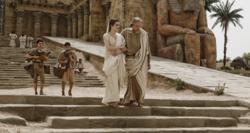 " 'Agora' recreates Alexandria Egypt in 400 AD," said Production Designer John Muto,"by utilizing magnificent sets built in sound stages."
Los Angeles, CA (PRWEB) June 16, 2011
The Art Directors Guild (ADG) Film Society and American Cinematheque will screen the epic "Agora" (2009), set in Roman Egypt and designed by Production Designer Guy Hendrix Dyas (Inception, Superman Returns, Indiana Jones and the Kingdom of the Crystal Skull, Elizabeth the Golden Age) on Sunday, June 26 at 5:30 pm at The Egyptian Theatre (6712 Hollywood Blvd. Los Angeles, CA 90028). Agora is the second of this year's screening series highlighting remarkable, little seen masterpieces of production design. A panel discussion will follow, with designer Dyas, as well as Set Decorator Larry Dias, moderated by Production Designer John Muto.
Directed by Alejandro Amenábar and written by Amenábar and Mateo Gil, Agora is the story of Hypatia (Rachel Weisz), a mathematician, philosopher and astronomer in 4th Century Roman Egypt. Surrounded by religious turmoil and social unrest, Hypatia struggles to save the knowledge of classical antiquity from destruction. Max Minghella and Oscar Isaac co-star.
Dyas was the first British designer to win Spain's Goya Award for his work on Agora. This year he was nominated for an Academy Award® for Art Direction on Christopher Nolan's Inception. He received three consecutive Art Directors Guild Award nominations for Indiana Jones and the Kingdom of the Crystal Skull, Elizabeth: The Golden Age and Superman Returns, followed by an ADG win for Inception.
Representing the ADG are President, Thomas A. Walsh and Production Designer, John Muto. Working with them are the American Cinematheque's Gwen Deglise and Grant Moninger. General admission: $11. American Cinematheque members: $7. Students/Seniors with valid ID: $9. All screenings start at 5:30 p.m. 24-hour information is available at 323-466-FILM (3456).
http://www.americancinemathequecalendar.com/content/agora-0
For information, please visitFor images, please visit: https://www.yousendit.com/download/dkJxRGw5NmNtUUUwTVE9PQ
Tickets can also be purchased on Fandango : http://www.fandango.com/egyptiantheatre_aaofx/theaterpage
About the Art Directors Guild: The Art Directors Guild (IATSE Local 800) represents nearly 2,000 members who work throughout the United States, Canada and the rest of the world in film, television and theater as Production Designers, Art Directors, and Assistant Art Directors; Scenic, Title and Graphic Artists; Illustrators and Matte Artists; and Set Designers and Model Makers. Established in 1937, ADG's ongoing activities include a Film Society; an annual Awards Banquet, a creative/technology community (5D: The Future of Immersive Design) and Membership Directory; a bimonthly professional magazine (Perspective); and extensive technology-training programs, creative workshops and craft and art exhibitions. The Guild's Online Directory/Website Resource is at http://www.adg.org. Follow ADG on Twitter: ADG800
For Facebook : https://www.facebook.com/pages/Art-Directors-Guild/108033579217202
About American Cinematheque: Established in 1981, the American Cinematheque is a 501 C 3 non-profit viewer-supported film exhibition and cultural organization dedicated to the celebration of the Moving Picture in all of its forms. At the Egyptian Theatre, the Cinematheque presents daily film and video programming which ranges from the classics of American and international cinema to new independent films and digital work. Exhibition of rare works, special and rare prints, etc., combined with fascinating post-screening discussions with the filmmakers who created the work, are a Cinematheque tradition that keep audiences coming back for once-in-a-lifetime cinema experiences. The American Cinematheque renovated and reopened (on Dec. 4, 1998) the historic 1922 Hollywood Egyptian Theatre. This includes a state-of-the-art 616-seat theatre housed within Sid Grauman's first grand movie palace on Hollywood Boulevard. The exotic courtyard is fully restored to its 1922 grandeur. The Egyptian was the home of the very first Hollywood movie premiere in 1922. In January 2005 the American Cinematheque expanded its programming to the 1940 Aero Theatre on Montana Avenue in Santa Monica. For more information about American Cinematheque, visit the website at http://www.americancinematheque.com
Follow the American Cinematheque on Twitter (sidgrauman) and Facebook (Aero Theatre).
###