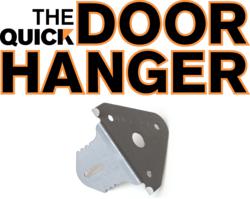 We installed 160 doors with two guys in two days! Prior to The Quick Door Hanger, we did 12 doors a day
Grand Rapids, MI (PRWEB) June 16, 2011
When Express Products first designed The Quick Door Hanger in 2007, they set out to greatly improve the way doors were hung. "We wanted to knock the professional door installation market off its feet," said Mike Gill, the president of Express Products. "What we did not realize was how simple to use the brackets were actually going to be, even for the first time Do-It-Yourselfer. Because of this, we felt the need to change our entire marketing campaign from not only professional contractors, but also gear it towards the Do-It-Yourself homeowner." With the new marketing in place, the product quickly took off.
There have been a flood of great testimonials from around the county. "We even have high end door manufacturer's attaching The Quick Door Hanger to every single door they sell," said Mike Gill, "By doing so, their door warranty returns have dropped dramatically." Professional trimmers rave about it, especially for installation on their high-end doors. "We installed 160 doors with two guys in two days! Prior to The Quick Door Hanger, we did 12 doors a day," said Fred Kline of Buckeye Construction in Grand Rapids, Michigan. By using The Quick Door Hanger, professional contractors are able to increase their productivity, saving both time and money as well as giving them a competitive edge over their competition.
Do-It-Yourself home owners no longer have the need to get their doors professionally hung. DIY's can hang their doors without any previous experience and can get the same professional results as an experienced carpenter. There has been a flood of positive testimonials from both Do-It-Yourselfers, as well as, professionals claiming how simple and fast the task of installing a door is using The Quick Door Hanger. Express Products utilizes YouTube, Facebook and Twitter to engage with its customers.
The Quick Door Hanger is a patented door installation bracket system. This simple to use 6 bracket system allows for quick, hassle free door installation without the use of shims. The system also allows for doors to be installed without having to nail through the door jamb (unlike traditional methods), leaving no nail holes to patch. The Quick Door Hanger is sold as a single door installation package and also as a ten door value box for larger projects. In order to compete with the traditional method of installing a door, this modern bracket system is priced roughly around the same cost point as a pack of shims.
Express Products continues to see explosive growth. The Quick Door Hanger is rapidly becoming a nationally recognized brand name among Builders and Professional Contractors. It's currently available in 2 out of 3 of the nation's "Big Box Stores". Initially starting off in Menards, a mainly Midwestern region store, they have now expanded into Home Depot, thus opening a flood of new customers. With sales soaring, Express Products has sold tens of thousands of doors worth of The Quick Door Hanger both domestically and internationally. They are showing no signs of slowing as they are now looking towards the Canadian market.
To learn more about The Quick Door Hanger visit http://www.TheQuickDoorHanger.com Professional contractors and Do-It-Yourself home owners will find more information, videos and informative tips.
###