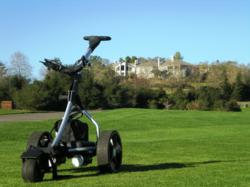 "We believe our GRV "Ace" Remote Controlled model blows away the competition."

Tom Knickerbocker
Santa Rosa, CA (PRWEB) June 16, 2011
Green Ray Vehicles, the makers of a range of electric and remote controlled golf trolleys, will be attending the 2011 PGA Expo in Las Vegas from August 22nd to 24th this year. This will be the first public event of its kind attended by the company, and they will be showcasing both their updated and brand new golf trolleys.
"This is a great opportunity for people to come along and see how good our golf caddies are," said Tom Knickerbocker, spokesman for Green Ray Vehicles. "We're going to be exhibiting our GRV "Ace" remote controlled golf caddy alongside our brand new model, the GRV "Eagle" electric push trolley."
The quality of the remote controlled caddy goes beyond that exhibited by its competitors. Green Ray Vehicles has conducted market research and poured the results of that research into the design. This has led to significant updates that have vastly improved the finished result.
"We believe our GRV "Ace" Remote Controlled model blows away the competition," Tom added. "Right across the industry customers were having the same problems with their caddies. We've done the research, taken the information and applied it to our 2011 remote model. We believe our golf trolley beats the competitors in price, weight, quality and design."
Anyone attending the 2011 PGA Expo will have a superb opportunity to see the two golf trolleys up close. The 2011 updates to the GRV "Ace" Remote Controlled model include major upgrades to the wheels, with plastic parts being replaced by stainless steel parts for better performance and greater wear. The new GRV "Eagle" model also now has a foolproof wheel and axle and an updated controller unit.
"We are very excited to have the opportunity to showcase these two models at the Expo in Las Vegas in August," said Tom. "We feel we have a huge advantage in the industry with these models, and the feedback from our customers is fantastic. We can also confirm we have outstanding shipping times and excellent customer service in all cases. We are certainly looking forward to meeting more potential customers and answering any questions they may have at the PGA Expo this year."
Green Ray Vehicles is located in Santa Rosa, California. Its electric golf caddies are part of their larger range of electric vehicles. Their website has comprehensive details of all their golf caddies, including the updated 2011 GRV "Ace" remote controlled golf trolley and the GRV "Eagle" electric push caddy. More information about Green Ray Vehicles and its products can be found at http://www.greenrayvehicles.com.
For more information about Green Ray Vehicles and their range of golf trolleys, contact Tom Knickerbocker on 707-544-2626. Alternatively you can send an email to tom(at)greenrayvehicles(dot)com or visit http://www.greenrayvehicles.com.
###