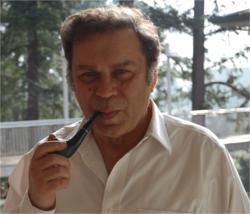 The Dr. Eliyahu Goldratt foundation will deliver ever flourishing TOC knowledge. Sanjeev Gupta
CEO Realization Software
New York, NY (PRWEB) June 17, 2011
To encourage and reward continued development of knowledge, TOCICO is pleased to announce Fellowships in memory of Dr. Goldratt. These fellowships will be awarded for "Applied Research" that significantly advances the TOC knowledge and will be funded by businesses and corporations.
The recipients will present their Applied Research as part of the annual TOCICO Upgrade Workshop in 2012. Realization Technologies, which has become the largest provider of TOC solutions by focusing on CCPM has come forward to initate the funding for the foundation.
Dr. Eliyahu Goldratt had a lifelong goal to teach the world to think. His vision for the formation of the TOCICO was that TOC knowledge be ever flourishing. To help enable this, Dr. Goldratt donated a two day upgrade session for the TOC community each year for the past eight years just prior to the TOCICO conference. This year as the community prepared for the 9th International conference it became apparent that Dr. Goldratt would not be able to deliver this new knowledge in person. In his truly inspiring dedication and sacrifice to the TOCICO, Dr. Goldratt focused solely on bringing his new knowledge to the TOCICO conference even during his final days. He personally invited current, past and candidate TOCICO Board members to Israel to learn the stunning advances in TOC that he had planned on sharing at his upgrade.
The TOCICO board wishes to honor Dr. Goldratt's commitment to ever flourishing TOC knowledge and the TOCICO by announcing its intent to form the Dr. Eliyahu Goldratt charitable foundation. This foundation will fund fellowships in applied research for the practical application and advancement of knowledge of the theory of constraints. Dr. Goldratt's life goal was to teach the world to think. The foundation would continue his work and fund the development and recognition of the next big ideas.
The foundation will be funded by private and corporate contributions. A committee of corporate CEO's, the TOCICO board of directors and respected academics will select the fellowships to be fund. The results of the fellowship will be presented at each international conference. This foundation will enable a new process that the TOC community can use to continually upgrade the knowledge created by the giants before us and allow each of us to stand on their shoulders to see even further.
###