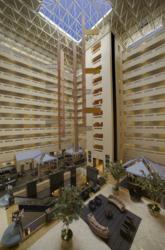 "Both Julio and Eddie bring infectious passion for hospitality, and we're excited to welcome them to one of the area's most dynamic hotels." - Jim Darter
Denver, CO (PRWEB) June 21, 2011
The Holiday Inn® Denver East – Stapleton has announced the appointments of two executives to lead this conveniently located property in Stapleton, a business and residential area just east of downtown: Julio Escobar as General Manager and Eddie Carraro. Two seasoned hotel professionals with over 38 years of combined hotel experience behind them, Escobar and Carraro will focus on-property management for this recently renovated Holiday Inn that is near Dick's Sporting Goods Park and the Shops at Northfield.
"We are thrilled to have two such experienced hospitality professionals join the team at the Holiday Inn Denver East- Stapleton," said Jim Darter, Senior Vice President of Full Service Hotels for Sage Hospitality, which manages the hotel. "Both Julio and Eddie bring infectious passion for hospitality, and we're excited to welcome them to one of the area's most dynamic hotels."
Julio Escobar, General Manager
Escobar joins the Holiday Inn Denver East- Stapleton from the JW Marriott in Cherry Creek, which he originally joined as the Director of Meetings & Special Events and was promoted into the Director of Operations position in 2008. Escobar has over 30 years of experience in the hotel industry working mainly at Marriott properties. He has been working in Denver for the majority of his career, but has also been based in both Missouri and California. An active and involved professional, he is involved in the Hispanic Chamber of Commerce.
A native of El Salvador, Escobar credits his passion for his profession to his ability to work in a competitive environment while developing relationships, his love of service and hospitality as well as the commitment to serving guests and the community. Escobar has been awarded Marriott's Manager of the Quarter on three occasions and has been awarded Marriott's Gold Key Winner. He currently resides in Denver, where he enjoys spending time with his family, cooking, gardening and hiking.
Eddie Carraro, Area Human Resource Director
Eddie brings over fourteen years of experience in human resources to Holiday Inn Denver East- Stapleton. Eddie has been working in human resources for hospitality companies in both Avon and Denver, Colorado. Carraro joined Sage Hospitality in 2008 and is now promoted to Holiday Inn Denver East- Stapleton, one of Sage's newest hotels to add to the portfolio. He received a Bachelor of Science in Organizational Leadership and Supervision from Purdue University.
Born and raised in Indianapolis, Carraro enjoys live music and outdoor activities. He currently resides in Denver and when not working, he spends time with friends and family.
Holiday Inn® Denver East – Stapleton
From the hotel's 11-story atrium, to the comfortable and contemporary 300 guest rooms, to the magnificent views of the Rockies and city skyline, the Holiday Inn® Denver East - Stapleton hotel's unique features can't be found at other hotels. Located off I-70 in Denver, Colorado convenient to Dick's Sporting Goods Park and the Shops at Northfield, the hotel is just minutes from downtown and within walking distance of restaurants and shops. Offering more than 20,000 square feet of flexible meeting space, a Business Center and complimentary Wi-Fi, the hotel is ideal for corporate and social gatherings. Business travelers are pleased to know that many corporate regional facilities are in proximity to the hotel's east Denver address; 3333 Quebec Street, Denver, Colorado 80207. For more information about Holiday Inn Denver East- Stapleton, call 1-866-776-1561 visit http://www.holidayinn.com/hotels/us/en/denver/denst/hoteldetail, find them on Facebook.com/HolidayInnStapleton or Twitter @HIDenEastStap.
About Sage Hospitality
Founded in 1984, Sage Hospitality has strategically grown into one of the largest privately held hotel management and development companies in the nation operating a variety of large, full-service hotels and extended-stay and select-service properties. Sage Hospitality's comprehensive management portfolio includes major international brands for Marriott, Starwood, Hilton and IHG as well as the independent boutique hotels. Sage Hospitality has further differentiated with the creation of the Sage Restaurant Group, which has created and is managing 10 unique restaurant concepts including the acclaimed Mercat a la Planxa in Chicago. For more information, visit http://www.sagehospitality.com.
###