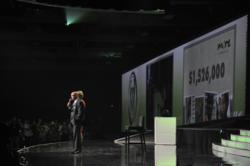 "Since MonaVie covers all of The MORE Project's administrative costs, 100 percent of the money raised at convention will go to fund new programming, enabling us to help hundreds more in need."
Salt Lake City, UT (PRWEB) June 15, 2011
MonaVie, a global leader in premium nutrition products, announced today that the company and its generous distributors raised more than $1.5 million during its International Convention, June 9–11, to support the mission of The More Project in Brazil.
MonaVie founded its non-profit, known as "The MORE Project," to provide sustainable programs that help lift impoverished children and families living in the slums of Brazil to help provide them with a promising future. In the five years since its founding, MonaVie and its distributors have freed hundreds of people from the cycle of poverty. Initially, the project provides critical resources such as nutritious food, urgent medical and dental care, and safe shelter to end suffering. Then recipients' long-term needs are met through educational and vocational programs.
During this year's International Convention attended by nearly 6,000 distributors from around the globe, the company announced a goal to raise $1million, a seemingly impossible task. But at the Friday, June 10, MORE Project Gala, MonaVie Founder, Chairman and CEO Dallin Larsen stunned the hundreds in attendance by announcing that through the generosity of MonaVie distributors, the goal was exceeded by more than a half million dollars.
Larsen said during the announcement, "At MonaVie, we believe in abundance and in sharing that abundance. It is so heartwarming to see our distributors contribute to a country that has given our company so much through the nutritious acai berry. Our reward for funding this work is to witness the renewed light and hope in the eyes of people living in abysmal conditions, knowing that we are helping give them and their posterity a more meaningful, self-reliant life."
Larsen said the new funds will help extend many of the educational programs for children from K–12, as well as the vocational training programs for adults. In addition, it will enable the project to feed more children in school programs, where currently more than 2,500 are fed nutritious meals each week.
Katy Holt-Larsen, executive director of The MORE Project, said, "Since MonaVie covers all of The MORE Project's administrative costs, 100 percent of the money raised at convention will go to fund new programming, enabling us to help hundreds more in need."
About the MORE Project
The MORE Project seeks to change lives and restore families living in poverty in Brazil. The MORE Project adheres to a philosophy of love and compassion to support those whom society has left behind. We focus on providing individuals with skills, resources and support so they can free themselves and their families forever from the cycle of poverty and begin new lives filled with hope, health and dignity. The name of our project, "MORE," reflects our vision and commitment to continuously do more to end the suffering of those in need in Brazil. Further, we are committed to loving, supporting and educating more individuals so they can do more with their own lives. We do this by providing critical resources, such as nutritious food and safe shelter to end their suffering, and loving support and educational training to help them and their families create a thriving future.
To learn more about The MORE Project, please visit their website at http://www.themoreproject.org.
About MonaVie
MonaVie is a leading network marketing company that sells premium nutrition products in 17 countries around the world. Launched in 2005, MonaVie became one of the fastest-growing companies in history. In 2009, the Inc. 500 listed MonaVie as the No. 1 fastest-growing private company in the Food & Beverage category, and Ernst & Young named Dallin Larsen, MonaVie's founder and CEO, Entrepreneur of the Year. MonaVie's product portfolio includes a line of functional beverages, a healthy energy drink, and a healthy weight management system. Learn more about MonaVie at http://www.monavie.com.
Contact:
Mike Weingarten
(801) 748-3374
mweingarten(at)monavie(dot)com
###