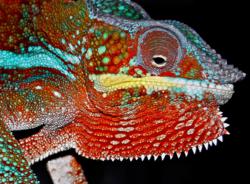 Washington, DC (PRWEB) June 15, 2011
Thailand's pet dealers are supplying large numbers of Madagascar's most threatened reptiles and amphibians to local and international markets, despite unanswered questions over the legality of the imports, a new TRAFFIC report has found.
A 15-day survey of 32 vendors in Bangkok, and 8 Thai provinces by TRAFFIC investigators found 591 specimens of Madagascar's reptiles and amphibians available for sale.
According to the report Trade in Madagascar's endemic reptiles and amphibians in Thailand, of particular concern was the large scale trade in endemic Madagascar's chameleons. The investigators found 233 chameleons representing 16 species for sale in markets, shops and internet traders' homes, including the Antsingy Leaf Chameleon (Brookesia perarmataI), a species whose international commercial trade is prohibited under CITES (Convention on International Trade in Endangered Species of Wild Fauna and Flora).
While some Madagascar's chameleons species can be legally traded, up to 78 percent—some 3,738 individuals—imported to Thailand between 2004 and 2005, had been declared as "captive-bred" in Kazakhstan or re-exported from Lebanon, notes the report.
However, analysis of official trade data showed that Kazakhstan had reported no imports of chameleons from Madagascar, nor had any country reported exports of Madagascar's chameleons to Kazakhstan. "If large-scale captive-breeding operations of Madagascar's chameleons are indeed taking place in Kazakhstan, where did they source their breeding stock and why are many of the exports going via Lebanon, a country that is not a party to CITES?" asks Chris Shepherd, Deputy Director of TRAFFIC South-East Asia.
Official trade data show Lebanon legally imported 32 Madagascan chameleons in 2005 from CITES Parties.
"Even at the highest theoretical hatching and survival rates, it is impossible for 32 chameleons to produce the thousands of offspring Thailand declared as imported from Lebanon in subsequent years, so how is the shortfall accounted for?" asks Shepherd.
Other species discovered during TRAFFIC's investigations in Thailand included over a hundred Radiated Tortoises (Astrochelys radiate), dozens of Spider Tortoises (Pyxis arachnoids), and three Ploughshare Tortoises (Astrochelys yniphora) —three of the world's rarest tortoise species. All are classified by IUCN as Critically Endangered and international commercial trade in all is banned under CITES. The Radiated Tortoise population is believed to have shrunk to 30% or less of its former range in south-west Madagascar since 2009.
"The unique wildlife of Madagascar is being put at risk to satisfy the desire of some collectors who want to own a rare 'living jewel' from the forest. Collectors in the United States should be careful before buying Madagascar's reptiles or chameleons imported from Thailand, even if they are alleged to be captive bred," said Crawford Allan, Regional Director, TRAFFIC North America.
Last week, more than 800 protected reptiles were interdicted by Thai authorities at Bangkok's Suvarnabhumi Airport. "Seizures of Madagascan chameleons by airport authorities are testament to the continuing illegal trade, but as the current report amply demonstrates, only through making regular visits to markets stalls and other vendors can we hope to unearth the true scale of the illicit trade and its potential impact on wild chameleon populations," said Dr Richard Jenkins, Chair of the IUCN/SSC Chameleon Specialist Group.
The report urges Thai authorities to investigate and put a stop to imports from questionable sources. It also calls for stern action against traders who sell illegal reptiles and amphibians.
In 2013, Thailand will host the next CITES Conference, which representatives of 175 governments are expected to attend to discuss wildlife trade issues.
For further information:
Monica Echeverria, Media Relations Deputy Director, WWF-US; +1 (202) 495 4526; monica(dot)echeverria(at)wwfus(dot)org
Richard Thomas, Communications Coordinator, TRAFFIC. ; +44 1223 279068 ; richard(dot)thomas(at)traffic(dot)org
Notes

TRAFFIC, the wildlife trade monitoring network, works to ensure that trade in wild plants and animals is not a threat to the conservation of nature. TRAFFIC is a joint program of IUCN and WWF.
Funding for this work was provided by the Darwin Initiative grant 'Chameleon Trade and Conservation in Madagascar' to DICE University of Kent and Madagasikara Voakajy.
ABOUT WORLD WILDLIFE FUND
WWF is the world's leading conservation organization, working in 100 countries for nearly half a century. With the support of almost 5 million members worldwide, WWF is dedicated to delivering science-based solutions to preserve the diversity and abundance of life on Earth, halt the degradation of the environment and combat climate change. Visit http://www.worldwildlife.org to learn more.
# # #