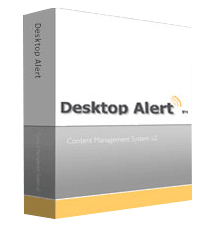 U.S. Army end-users of the newly approved system now receive actionable intelligence by way of the Desktop Alert Notification System in as little as 10 seconds from the time of alert publication
Washington, D.C. (PRWEB) June 15, 2011
Desktop Alert Inc. a world class provider of Secure Mass Notification Systems (MNS) and recent winner of the U.S. Army Fort Hood Mass Notification Award today announced that in tandem with the United States Army at Fort Gordon, Desktop Alert successfully attained U.S. Army Networthiness Certification on June 2nd, 2011 as an approved system. The new certification expires in June, 2013.
The Desktop Alert Mass Notification Platform is currently serving the National Guard and The Air National Guard nationwide for alerting requirements in both land and air across the United States during an emergency. The alerting platform is the largest combined nationwide deployment of an IP-Based alerting system in U.S. History. Numerous additional U.S. Army and U.S Air Force agencies use the Desktop Alert System daily.
"This new certification is significant to our company. In the U.S. Army, categorization as an approved 'SYSTEM' verses an approved 'APPLICATION' required a significant and lengthy application and review process. The escalation of Desktop Alert to Fort Gordon as an approved U.S. Army Enterprise Level Network "system" is good news for our DoD customer base. This will streamline the procurement and sustenance process enterprise-wide for the both the U.S. Army and Department of Defense worldwide. Usage of Desktop Alert for command-wide network-centric emergency notification, recall and personnel accountability requirements is and continues to remain our mission" added Howard Ryan, Founder and CEO Desktop Alert Inc.
Desktop Alert U.S. Army Additional Information:
*Over One Million Active U.S. Army End-User Seat Licenses
*System is DIACAP Approved
System is NGB Enterprise Alerting System now in nearly 50 states, territories and locations.
*Recently Selected by Fort Hood as Primary IP-Based Mass Notification System
*Fort Gordon
*Fort Lee
*Fort Campbell
*Fort Knox
*Fort Leavenworth
*Fort Leonard Wood
*Fort Rucker
*Fort Polk
*USAG Heidelberg
*USAG Brussels
*USAG Benelux
*USAG Shinnen
United States Military Academy
Now live at Andrews and in deployment to 88 Air National Guard Wings
The newly approved Desktop Alert Enterprise Edition Platform will guarantee alerts are served to thousands of personnel and machines with critical content delivery. Desktop Alert is built on the Microsoft .Net Platform. Desktop Alert's open systems architecture will continue to manage the fabric of rapidly evolving alert, notification and response technologies. Desktop Alert integrates with numerous 3rd party vendor technology and the company focus is to 'affordability' integrate with and support customers existing mass notification capabilities such as giant voice, telephony systems, siren systems, public address, intrusion and alarm systems, surveillance systems and more.
About Desktop Alert, Inc.™
Worldwide U.S. Military organizations such as The United States National Guard, The United States Air Force Academy, The United States Military Academy at West Point, Multi-National Forces in IRAQ, The U.S. Air Force, and The U.S. Army now utilize the DTA mass notification platform daily for their organizations emergency communication requirements. Desktop Alert can contact thousands of computer users at their desktop and require them to click to confirm receipt of the message flashed on their screen. Those not verified can then be listed on a report and/or sent as a "Target Package" to be automatically contacted by other means such as email, SMS, phone calls and other devices. Desktop Alert is available for over numerous approved DoD portals such as GSA, NASA/SEWP or direct.
For more information on Desktop Alert, please visit http://www.desktopalert.net
###