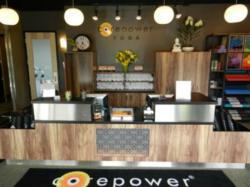 Clairemont Mesa is the ideal new location for CorePower Yoga.
San Diego, CA (PRWEB) June 22, 2011
CorePower Yoga has become a staple of health and wellness in the lives of San Diegans and recently the company continued its growth in San Diego with a new studio in Clairemont Mesa.
"Clairemont Mesa is the ideal new location for CorePower Yoga," said studio manager Kristie Van Vugt. "Centrally located with a vibrant crowd of professionals and parents, we are so excited to be bringing CorePower Yoga to this growing neighborhood and are looking forward to bringing the mind-body connection and CorePower Yoga experience to yet another community in San Diego," said Van Vugt.
Known throughout the county for its lifestyle programs and innovative classes, CorePower Yoga Clairemont Mesa will feature everything that has made CorePower Yoga a favorite among locals. Hosting classes for all levels, including Hot Power Fusion, C1 and C2, Yoga Sculpt and more, along with CorePower Yoga's Teacher Trainings and specialized lifestyle programs that focus on physical, mental and spiritual growth and wellness, this new studio is sure to engage the Clairemont Mesa and surrounding communities.
CorePower Yoga Clairemont Mesa is located at 4592 Clairemont Drive. CorePower Yoga Clairemont Mesa opens in a brand new building and offers one large climate-controlled studio space and men's and women's locker rooms with fully stocked showers. The studio also features a full retail boutique showcasing men's & women's active wear and accessories for all yoga and lifestyle needs.
CorePower Yoga Clairemont Mesa's climate-controlled environment utilizes the latest technology to efficiently heat and maintain the yoga room. The studio features materials and finishes with sustainable attributes to create a visually attractive experience and the indoor atmosphere promotes healthy air quality. A full schedule of daily classes will be offered at this studio in addition to CorePower Yoga's signature lifestyle programs.
For more information, please go to http://www.corepoweryoga.com.
About CorePower Yoga
CorePower Yoga's unique and physically challenging style of heated power yoga combines energy, music, movement and community to create a one-of-a-kind yoga experience. CorePower Yoga offers a variety of classes catering to all levels including CorePower Yoga, its proprietary heated Power Yoga, Hot Yoga, Hot Power Fusion, Yoga Pilates, Yoga Sculpt, a Vinyasa flow combined with weights, and CoreRestore, a restorative yoga practice. All yoga classes encompass a wide variety of asanas, or poses, and are taught by certified yoga instructors. In addition to yoga classes, CorePower Yoga offers transformative integrated wellness programs and Teacher Trainings to empower students to live a health-focused and extraordinary life.
# # #