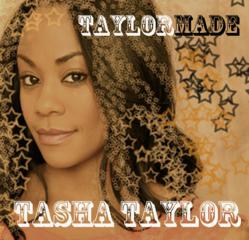 Real instruments, Real singing...it's like a breath of fresh air!
Los Angeles, CA (PRWEB) June 16, 2011
Call it "old school" call it "traditional," call it what you will...but call it Tasha Taylor, and call it real!
Los Angeles' KJLH, New Orleans' KMEZ, Little Rock KOKY, Shreveport KQXL, Columbus GA WAGH, Columbia SC WLXC, Chattanooga WMPZ, Montgomery AL WWMG, Detroit WGPR and Atlantic City WTTH have embraced the song "Queen" on initial offering. What do all these stations have in common? They recognize and laud true Soul and R&B.
No auto-tuned vocals here! Radio.com raves "Resounding vocal power found in Taylormade...Taylor would make any parent proud with vocal power that packs an R&B soul-stirring punch!...Tasha Taylor is truly an example of offspring who has taken talent to the next level...and when it comes to the next generation of blues, R&B and Soul, then there is little to worry about, as long as Tasha Taylor stands at the helm."
New Jersey PD Arthur Shorter adds, "Listening to Tasha Taylor...Real instruments, Real singing...it's like a breath of fresh air!" And KJLH jock, Tammi Mac was heard to enthuse that Tasha stole the show at a KJLH Summer Jam, simply "killing" the material.
Check out "Queen" by Tasha Taylor on "TAYLORMADE."
Tasha not only kills it on the CD...but there is no better way to experience Tasha, than live and in your face! Talk about the hardest working act in showbiz?...we have a new one for a new generation in Tasha Taylor. With the CD TAYLORMADE officially released just this week, Tasha continues performing on Tuesdays at Harvelle's in Santa Monica, California throughout the month of June. Come on down.
TAYLORMADE is now available worldwide at Amazon.com, CDBaby and iTunes.
Follow Tasha on:
Facebook: http://www.facebook.com/tashataylormusic
Twitter: http://www.twitter.com/tashamademusic
YouTube: http://www.youtube.com/tashataylor2
###