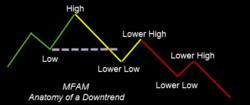 ...some of the best returns can be made when the markets are going down (even during a crash)...
Bingham Farms, MI (PRWEB) June 16, 2011
Trading Concepts' proprietary Market Flow Analysis Method (MFAM) has been used by thousands of individual and professional traders and investors worldwide to determine whether the market is in a bullish, bearish or sideways trend.
And, according to the trading analysis last week, the MFAM determined that the daily chart of the Dow Jones Industrial Average was no longer in a bullish trend, which suggests that bullish investors may want to exercise caution.
"When the previous low of 12,093 made on April 18 was taken out to the downside last week, it changed the overall picture of the market from a bullish trend to an intermediate downtrend," says Todd Mitchell, President of Trading Concepts.
"This tells us that the bullish market on the daily chart has lost steam and longer-term investors may want to ensure that their risk measures are in place and profits are protected in the event that this intermediate down-trend situation continues," explains Mitchell.
According to MFAM, for a downtrend to exist, Todd Mitchell and thousands of Trading Concepts students will be looking for the market to pull back up again, establish a lower high and then break down below the previous lower low.
For millions of traders and investors, another market crash could be devastating but, whether you're trading stocks, commodities, currencies, or options, learning how to make money in all market conditions might be the answer most investors need.
"Most people are afraid of Bearish markets and falsely believe that they can't make money in this type of market, but some of the best returns can be made when the markets are going down (even during a crash)," states Mitchell. "You see, markets tend to fall three times faster than they go up, but they hardly ever fall in a straight line. Bearish markets make a new low then they pull up, hit resistance and fall back down to a newer low and when traded correctly, these movements present opportunities for people to make money."
"When you are able to accurately interpret what's going on in the market, suddenly you can trade with confidence and take advantage of the opportunities most people miss," concludes Mitchell.
ABOUT TODD MITCHELL: Todd Mitchell is a market technician and has been investing in the markets since 1988. In addition to his own trading, he is a highly sought after trading mentor who has worked with thousands of students ranging from beginning traders to Wall Street millionaires. Mitchell is the founder of Trading Concepts and the originator of the widely-acclaimed 'Market Flow Analysis Method.'
ABOUT TRADING CONCEPTS: Trading Concepts is one of the oldest, most respected trading education companies in the world having mentored over 6,000 traders in forex, emini, options and stock trading since 1994. Trading Concepts students include new and intermediate traders as well as individual professional traders, million dollar Market Makers and Wall Street professionals. To learn more about Trading Concepts and how to become a student, please visit http://www.TradingConceptsInc.com
###