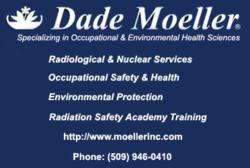 "We are proud to be involved in NOAA's preparations for these important research cruises." CEO Dade Moeller
Richland, WA (PRWEB) June 16, 2011
In response to the Fukushima Daiichi nuclear power plant situation in Japan, Washington-based radiation protection firm Dade Moeller (http://www.moellerinc.com) has developed a comprehensive Radiation Protection Program for the National Oceanic and Atmospheric Administration (NOAA) to ensure the protection of crew members and scientists aboard its research vessels operating in the western Pacific Ocean. The Radiation Protection Program, developed under contract to NOAA, is designed to be used during future research cruises into areas potentially affected by the Fukushima plant.
As part of the contract, Dade Moeller also prepared a risk assessment for NOAA based upon known and anticipated radiological conditions, as well as a scenario-based plan for when and how the crew would take protective action, if needed, while at sea. The company provided recommendations for radiation monitoring equipment and procedures, as well as counsel on how to safely store, decontaminate, and dispose of any contaminated equipment at sea or in port, in compliance with regulations. With extensive experience in radiation-related risk communication, the company also developed a flyer for mission personnel, to serve as an onboard reference to potential risks involved in future missions. Dade Moeller experts will be available to NOAA 24/7 during each mission to provide rapid solutions to any unanticipated conditions that could be encountered at sea.
"We are proud to be involved in NOAA's preparations for these important research cruises," said CEO Matt Moeller. "The events related to the Fukushima nuclear power plant have prompted an increased need for documented radiation protection practices, and we have ramped up our efforts in response. Whether for ocean scientists, Japanese manufacturers, or U.S. product importers, we are pleased to offer our expertise to help ensure the safety of workers, the environment, and the public."
ABOUT DADE MOELLER: Headquartered near the U.S. Department of Energy's Hanford nuclear site in Richland, Wash., Dade Moeller is a nationally recognized firm that provides a full range of professional and technical services to federal, state, and commercial clients in support of nuclear, radiological, and environmental operations. Dade Moeller specializes in radiation protection, health physics, worker safety, and radiation training. Information on Dade Moeller's response to the Fukushima nuclear power plant incident can be found at Japan Support.
###