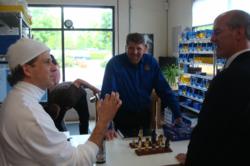 May our products help you access and express your deepest brilliance & inspiration. May your brilliance & inspiration, in turn, spread to the rest of the world! - Theo Wanne
Bellingham, WA (PRWEB) June 17, 2011
Theo Wanne Classic Mouthpieces thanks Congressman Rick Larsen for meeting to discuss their very fast export growth. Over the last three years, Theo Wanne Classic Mouthpieces has grown their export business 103%, 112%, and 146% year-over-year. The company feels a close connection to their international customers and 130+ dealers worldwide.
Tom Wanne, CEO, says, "We are truly honored to be recognized for these achievements.
"Growing fast attracts its fair share of hurdles from operations, capacity growth, management, shipping, receiving, marketing, and other areas of business development. We send a huge thank you for all the support we are receiving from resources outside of our business, like Rick Larsen's Export Promotions and our local Center for Economic Vitality (CEV), as well as the absolutely amazing team we have here at Theo Wanne Classic Mouthpieces that makes our growth a success."
Theo Wanne Classic Mouthpieces is legendary for revolutionary products that inspire musicians.
###