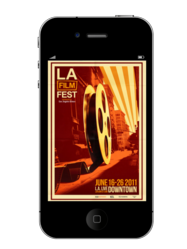 People are increasingly consuming media from their mobile devices on the go, whether it's to watch movie clips or read up on the news. -- Aron Ezra, CEO of MacroView Labs
Los Angeles, CA (PRWEB) June 16, 2011
Film Independent, the non-profit arts organization that produces the Spirit Awards and the Los Angeles Film Festival, and mobile developer MacroView Labs announce the launch of the official 2011 Los Angeles Film Festival mobile apps. The free, location-aware iPhone and Android apps give users real-time updates about hundreds of films, filmmakers, news items and events happening at The Festival, which runs June 16-26.
The iPhone app is available for download in the Apple iTunes Store at:
http://itunes.apple.com/us/app/los-angeles-film-festival/id376515266?mt=8 and the Android app is available in the Android Market at: https://market.android.com/details?id=com.mvl.laff.
Sample app features allow Festival attendees to:

Sort and search movies by title, director, genre, venue, section or country, and read summaries and see key credits.
Check out the daily show schedule.
Buy tickets and passes by phone, email or online.
View GPS maps and get directions to any key area of the Festival. You can even drop a pin onto the satellite map to remember where you parked.
Bookmark any content to create a custom schedule, and jot down notes within the app.
Contact Festival staff using the directory with one-touch dialing or e-mailing.
Browse through dozens of nearby restaurants and key venues for this year's Festival.
Check weather and traffic updates.
Watch movie trailers.
Receive special offers and discounts on everything from parking to rental cars to airline travel to hotel stays to bars & restaurants across the city.
Volunteer, donate, or rate content within the app.
Access VIP content with a private, passcode key.
Browse Festival social media channels, or login to Twitter or Facebook right from the app.
"People are increasingly consuming media from their mobile devices on the go, whether it's to watch movie clips or read up on the news," said Aron Ezra, CEO of MacroView Labs. "We're excited to be working with the Los Angeles Film Festival for the second year in a row to offer a convenient, useful mobile app that serves as a mobile Festival guide, news source and ticket booth all rolled into one."
This year's 11-day Festival, presented by Los Angeles Times and supported by L.A. LIVE, will be unveiling world premieres of studio films, free outdoor movies, fun treasures from the past, terrific new international films, and exciting conversations with guest artists.
Visit http://www.LAFilmFest.com for screening dates and times, and to purchase tickets and passes.
ABOUT THE 2011 LOS ANGELES FILM FESTIVAL
Now in its seventeenth year, the Los Angeles Film Festival, presented by the Los Angeles Times, is widely recognized as a world-class event, showcasing the best in new American and international cinema and providing the movie-loving public with access to some of the most critically acclaimed filmmakers, film industry professionals, and emerging talent from around the world.
The Festival features unique signature programs including the Filmmaker Retreat, Ford Amphitheater Outdoor Screenings, Poolside Chats, Coffee Talks and more. Additionally, the Festival screens short films created by high school students and has a special section devoted to music videos.
Over 200 features, shorts, and music videos, representing more than 30 countries, make up the main body of the Festival.
The Los Angeles Film Festival is presented by the Los Angeles Times and is supported by L.A. LIVE and Premier Sponsor Pechanga Resort & Casino, Principal Sponsor Virgin America and Platinum sponsors Kodak, Stella Artois, Melrose MAC, Regal Cinemas L.A. LIVE Stadium 14, Dove® Hair Care, Volkswagen, Jameson Irish Whiskey®, Deluxe Entertainment Services Group and EFILM. Special support is provided by the Alfred P. Sloan Foundation, the National Endowment for the Arts, the Department of Cultural Affairs, UCLA Latin American Institute, and the University of Guadalajara Foundation. The Official Screening Venue is Regal Cinemas L.A. LIVE Stadium 14. Stella Artois is the Official Beer, Jameson Irish Whiskey® is the Official Spirit, and World Wine HeadQuarters is the official wine purveyor. The Los Angeles Athletic Club is the Official Host Hotel and Virgin America is the Official Airline Partner. WireImage is the Official Photography Agency and PR Newswire is the Official Breaking News Service of Film Independent.
More information can be found at LAFilmFest.com
ABOUT MACROVIEW LABS INC.
MacroView Labs is a mobile software company that helps its customers and their target audiences understand and interact with each other in the mobile world. MacroView's proprietary platform allows clients to include many functionalities in a single app, and allows that app to work across multiple mobile devices. The company provides ongoing development, best practice mobile consulting, unlimited upgrades and account management activities. The apps give guests and customers an enhanced real-world experience by providing them with schedules, GPS maps, games, activities and other concierge services. More information is at http://www.macroviewlabs.com.
ABOUT FILM INDEPENDENT
Film Independent is a 501 (c)(3) non-profit arts organization that champions independent film and supports a community of artists who embody diversity, innovation, and uniqueness of vision. Film Independent helps filmmakers make their movies, builds an audience for their projects, and works to diversify the film industry. Film Independent's Board of Directors, filmmakers, staff, and constituents are comprised of an inclusive community of individuals across ability, age, ethnicity, gender, race, and sexual orientation. Anyone passionate about film can become a member, whether you are a filmmaker, industry leader, or film lover.
With over 250 annual screenings and events, Film Independent provides access to a network of like-minded artists who are driving creativity in the film industry. Film Independent offers free Filmmaker Labs for selected writers, directors, and producers; provides cut-rate services for filmmakers; and presents year-round networking opportunities. Film Independent's mentorship and job placement program, Project:Involve, pairs emerging culturally diverse filmmakers with film industry professionals.
Film Independent produces the Los Angeles Film Festival, celebrating the best of American and international cinema, and the Spirit Awards, a celebration honoring films and filmmakers that embody independence and dare to challenge the status quo.
For more information or to become a member, visit http://www.FilmIndependent.org.
# # #