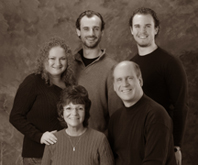 Minneapolis photographer Bob Dale invites Dad's to his June Father's Day portrait special.
Minneapolis, Minnesota (PRWEB) June 17, 2011
A great gift for your father or grandparents this Father's Day would be a professional portrait of you, your family or your children, suggests award-winning Minneapolis photographer Bob Dale of Dale Studios. Another valued gift would be for you to schedule a portrait of your extended family for Dad or Grandpa. Dad may even like an updated business portrait.
Dale Studios is announcing their Fathers Day portrait special for June. June's special is 50% off of the portrait session fee. "Portraits are perfect gifts for any occasion, and portrait gifts are even more valued over time because they stop time," Dale says. "Later we're so grateful for portraits because we can't go back and do a portrait from the time when the kids were a certain age or when Grandma was alive or when someone who is now sick was healthy," he adds.
"People never regret hiring a Minneapolis portrait photographer and having professional portraits made, but they often regret having no portraits or having poor quality amateur portraits, he says" says Dale. "While amateur portraits are great, it's usually the professional portraits that are treasured and displayed on the wall 10 or even 50 years from now."
"Too many people procrastinate about having portraits made, thinking they'll wait until they lose weight or they have more time," he says. "I can't tell you how many sad stories of regret I've heard. My advice is to get portraits made now."
It's a good idea to have professional portraits made on a regular basis, perhaps every year or two for a young family and every three years for an older family, he advises.
Dale has become an ambassador for preserving family memories "now" in a busy world. "When it comes to portraits, my best advice is to do it now so you won't have any regrets. Make an appointment for a family portrait or individual portrait now with our June special."
Dale, who has more than 20 years experience, specializes in black and white and color portraits and has photographed more than 2,000 individuals and families. His photography has earned him 12 national awards, including Fuji's Masterpiece Award. In addition, Kodak selected one of his photographs to be displayed at its EPCOT exhibit in Florida.
For more tips on portraits, see the Dale Studios website at http://www.dalestudios.com or call (952) 400-1020.
# # #