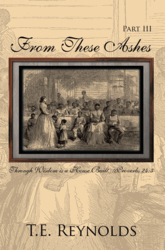 Alcoa, Tenn. (PRWEB) June 17, 2011
In the final installment of his new historical fiction trilogy, From These Ashes (published by AuthorHouse), debut author T.E. Reynolds masterfully concludes his exploration of how the politics and bloodshed of the War Between the States forever changed the landscape of the American South and its people.
In 2009's A Friend Loveth at All Times, Reynolds began a tender story of ill-fated love and friendship, opening readers' minds to how the struggle for freedom was complicated by the loyalty to a friend. When James buys a slave family against his father's wishes, his life will be changed forever. Complex and brooding, James struggles with an ill-fated marriage and becomes involved in a complicated love triangle.
James' journey continues in A Brother Offended (2010). After battling depression, James joins the Army and discovers a new struggle in the hearts of his fellow soldiers and embarks on a slow journey of self-discovery. Serving in South Carolina's Second Calvary under Edgefield's M.C. Butler, James endures four years of tragic warfare to come home to face a new set of challenges.
Published spring 2011, Through Wisdom is a House Built transports readers to ravaged, post-Civil War South Carolina along with James as he returns to his plantation. Staying true to documented accounts of this time in history, Reynolds delves deeper and shares little-known facts about the Carpetbaggers' invasion and the reconstruction of the South. James continues his personal growth as he devotes himself to saving his home and securing a safe future for those he loves.
As it captures the brave spirit of Southerners, both black and white, readers will be transported back to the 19th century in this sweeping wartime epic. Ideal for history buffs and those who enjoy well-crafted narratives of those intimately involved in the events that set the stage for the 20th Century, the From the Ashes trilogy is a welcome, unique addition to historical fiction.
About the Author
T.E. Reynolds has been studying the War Between the States for the past 40 years and believes that much of the history of the South's struggle for independence has been written by the victor. With the publication of From These Ashes, a previously veiled history is revealed to a new generation, and Reynolds is hopeful that knowledge will bring understanding and empathy to the struggles of the South during a tumultuous, pivotal time in American history.
AuthorHouse, an Author Solutions, Inc. self-publishing provider, is a leading provider of book publishing, marketing, and bookselling services for authors around the globe and offers the industry's only suite of Hollywood book-to-film services. For more information, visit http://www.authorhouse.com.
# # #