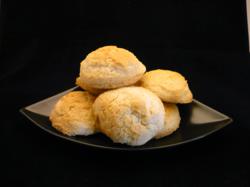 The response to the Zamora Margarita has been surprising, to say the least. Who would have thought to put tequila in a cookie? But this is what Farthest Star Cookies is all about--providing something unique, special and wonderful
Golden, CO (PRWEB) June 17, 2011
Cookie connoisseurs have new gourmet cookies to try. Farthest Star Cookies created the Zamora Margarita cookies for Cinco de Mayo and is extending the May special on these gourmet cookies infused with natural orange and lime flavorings as well as tequila.
The Cinco de Mayo inspired Margarita cookies come in packs of 12, currently on sale for $16. They are about three inches in diameter and about weigh about 2 ounces per cookie. These special cookies are made with fresh ingredients like tequila, natural orange and lime extracts and are coated with lightly salted sugar for that authentic Margarita taste.
"My mom doesn't drink and I think the taste of tequila would make her sick, but the Zamora Margarita is her favorite cookie!" states Faye Phillips Luther, owner and cookie maker at Farthest Star Cookies.
The cookies give you the taste of a Margarita without the heavy after taste from drinking a real one. These special cookies make great gifts, party snacks, and are a nice treat after dinner.
"The response to the Zamora Margarita has been surprising, to say the least. Who would have thought to put tequila in a cookie? But this is what Farthest Star Cookies is all about--providing something unique, special and wonderful," continues Luther.
Zamora Margarita cookies aren't the only special cookies Luther makes. She also makes other traditional cookies and infuses them with intense flavorings from liqueurs like Schnapps and Irish Cream. Other creations in the Cookie Shots line include Peppermint Schnapps, Peanut Butter Crème de Banana, Northface, Peach Schnapps Sugar, and Irish Cream Chocolate Chip. Farthest Star Cookies make sugar free cookies as well using Xylitol, a natural sugar substitute.
To order a package of the Zamora Margarita cookies or read more about them, visit farthest-star.com.
About Farthest Star Cookies
Farthest Star Cookies is the brainchild of Faye Phillips Luther who has a telecommunication and information technology background, and also likes to bake. She and her husband created all the cookies available for sale together out of a dream she had that began with chocolate chip cookies and Irish Cream. Since then, the husband and wife team have developed several more cookie creations using the liqueur theme.
###