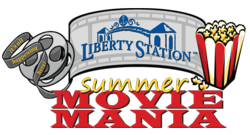 The Liberty Station Summer Movie Mania is the ideal way for San Diegans and our visitors to enjoy classic movies under the stars.
San Diego, CA (PRWEB) June 17, 2011
Liberty Station, San Diego's premier destination to live, work, shop, and play, invites San Diegans to enjoy free outdoor movies under the stars with family and friends. Starting June and continuing through September, Liberty Station will be showing movies on their 30-foot, high-definition outdoor movie screen at various locations throughout Liberty Station. The family-friendly movies will start at dusk (around 7:30 to 8:00 p.m.). Summer Movie Mania will allow locals and visitors alike to enjoy everything that Liberty Station has to offer in a fun and relaxing setting, inside the confines of Liberty Station, already known for its exceptional retail and restaurants, historically-significant office region, and vibrant arts & culture district.
With an assortment of casual and fine dining restaurants, unique merchants, and a bevy of artistic activities at Liberty Station, moviegoers can stop at any of the merchants within Liberty Station for a fun-filled evening. Participants are invited to bring their blankets, lawn chairs, cuisine to-go, and popcorn to enjoy the free outdoor movies.
Saturday, June 25: An Affair to Remember – Sail Ho Golf Course/Wine Steals
Saturday, July 30: Top Gun (25th Anniversary) – Ingram Plaza
Saturday, August 27: Avatar – South Promenade
Saturday, September 24: Toy Story 3 – Harbor Square
Come early before each movie night and participate in the activities provided by our underwriting sponsors The Corky McMillin Companies, Moment Cycle Sport, and San Diego Law Firm. Win a chance for "the Best Seat in the House" provided by Ace Hardware and be sure to participate in the Sail Ho Golf Course "Putting Challenge" for great prizes.
Erin Dial, director of Marketing for Liberty Station Vision says, "The Liberty Station Summer Movie Mania is the ideal way for San Diegans and our visitors to enjoy classic movies under the stars. Our outstanding lineup of movies, including the 25th anniversary of Top Gun (portions filmed at Liberty Station), will be sure to entertain moviegoers of all ages. And, the addition of a new 30-foot, high-definition movie screen to the series will create a memorable experience to all in attendance."
The 361-acre Liberty Station community includes 125 acres of parks, open space and a boat channel; shopping villages and restaurants; a 28-acre civic, arts and cultural district; the nine-hole Sail Ho Golf Club; Courtyard Marriott and Homewood Suites by Hilton hotels; and six schools. Nearly 350 families now reside at the pedestrian-friendly Liberty Station and dozens of companies, with hundreds of employees, are doing business there. Liberty Station includes vibrant retail communities NTC Landing, the Marketplace, Harbor Square, and NTC Promenade anchored by NTC Foundation. Liberty Station continues to receive accolades throughout the country for outstanding architectural and redevelopment design, and is a top destination in San Diego for residents and visitors. Please visit libertystation.com for more information.
###