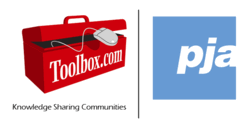 Cambridge, MA and Scottsdale, AZ (PRWEB) June 16, 2011
Toolbox.com, a subsidiary of the Corporate Executive Board (NYSE: EXBD) and the operator of online communities for professional knowledge sharing, in collaboration with PJA Advertising + Marketing, five-time BtoB Agency of the Year winner, today announced results from wave VII of their Social Media Index survey titled, "The Role of Social Games and Communities in Professional Identity." The survey of 2,100 IT, HR and Finance professionals finds that social media consumption and use via tablets and other mobile devices has significantly increased.
In 2010, only 16 percent of those surveyed owned a tablet device, however, 2011 data finds that 36 percent plan to purchase a tablet device in the next six months which is right behind plans to purchase a smartphone at 37 percent. More than 65 percent of respondents now spend close to 7 hours per week consuming or participating in social media, a 13 percent increase from mid-2010. Social media consumption via mobile devices has also risen significantly since 2010. Among professionals surveyed, IT professionals spend 3.69 hours consuming social media using their mobile device, up from 2.4 hours in mid-2010. HR professionals showed similar increases in social media use via mobile devices as they now spend 3.66 hours per week up from 2.43 hours.
"Our survey is echoing what's going on in the marketplace as tablet computers have risen to the same level as smartphones on professionals' planned purchase lists," commented Dave Moylan, president of Toolbox.com. "Interest from the IT community in tablet implementation has more than doubled since last summer, and overall we're seeing a 53 percent rise as tablet options increase and become more mainstream."
"The primary motivation among professionals contributing to online social media communities is to help others, which says to me that knowledge workers are both staking and building their reputations on the quality of these contributions," said Mike O'Toole, president of PJA Advertising + Marketing. "Companies that aren't incorporating social communities are truly missing out on an opportunity to activate the voices of their highly skilled employees."
Based on responses, quality trumps quantity when professionals consider the value of posts by their peers in online communities, and that ratings from peers, including badges and scoring systems, are useful tools and cues to judge the contribution of like-minded professionals in these communities.
Beyond tracking social media use and value among professionals, the survey also measured interest in two converging trends: larger-format handhelds such as tablet computers and the use of more interactive, game-like content. Nearly a third of IT respondents believe that online gaming should be incorporated into their daily job or training.
To view complete survey results, click here: http://www.toolbox.com/news/pjasurvey.
About Toolbox.com
Toolbox.com helps professionals do their jobs better by enabling them to easily share knowledge with experienced peers. The online communities at Toolbox.com provide the tools through which executives and professionals collaborate to solve problems, make decisions, and increase workplace efficiency. Through innovative marketing services, advertising partners become part of the conversation and engage professionals as they research, discuss, and influence purchasing decisions. This combination of community and advertising value has made Toolbox.com a leading destination for professionals and a leader in online advertising. Toolbox.com is a subsidiary of the Corporate Executive Board (NYSE: EXBD). For more information, visit http://www.Toolbox.com.
About PJA
PJA is a $75 million advertising and marketing agency with offices in Cambridge, Massachusetts, and San Francisco, California. PJA serves a global roster of technology, life science and healthcare clients that includes: Novell, GE Healthcare, Boston Scientific, Limelight Networks, Pegasystems, Trend Micro, Infor, and TriZetto. For more information, visit http://www.agencypja.com.
###