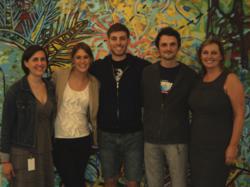 Portland, Maine (PRWEB) June 16, 2011
Portland, Maine-- June 16, 2011-- Two local Maine-based travel businesses have teamed up to give three lucky contest winners the chance to travel to 35 countries in two months, while documenting their experiences through social media, and sharing the benefits of international travel and educational exchange with the world.
More than 35,000 people travel the world with CIEE each year – studying, teaching, interning, working abroad – all participating in programs that contribute to an international exchange of ideas. In January, CIEE launched a contest to find three storytellers who would travel the world and tell the story of CIEE participants over the course of the summer. The contest required students to submit a video explaining why they should be chosen to take this amazing journey. This week, the selected story tellers will embark on an adventure that takes them across the globe, capturing and sharing CIEE stories through their blogs, photos, and video.
CIEE asked Hurley Travel Experts for guidance and logistics to create a seamless blend of full service and online travel management solutions to best meet the travel needs of the CIEE storytellers: Alex Coppola of Yarmouth, Maine; Shay Spaniola of Detroit, Michigan and Ezequiel Coeli Cannobio from Argentina.
CIEE was founded in 1947 in pursuit of the mission "to help people gain understanding, acquire knowledge, and develop skills for living in a globally interdependent and culturally diverse world." They teamed up with Portland, Maine's Hurley Travel Experts who specialize in customized travel planning and management; providing options and service for both the company and their travelers.
"We are so fortunate to have local travel experts to partner with us on this project," said Senior Vice President and Chief Marketing Officer of CIEE, Molly M. Donovan. "Based on Hurley Travel's track record in managing travel, we are confident in the guidance and logistics they have planned for these young travelers. Shay, Alex, and Ezequiel will each have their own unique route, traveling throughout the U.S., Africa, Asia, Europe, and Latin America, and the Middle East. We can't wait to hear their stories as they unfold."
"CIEE put our expertise to the test with less than three weeks to prepare this amazing adventure for these young travelers. We have worked closely with CIEE to coordinate every aspect of the trips and will cover them with our 24/7 worldwide emergency assistance should their travel plans be changed, tweaked or take a different path," said founder and CEO of Hurley Travel Experts, Pam Hurley-Moser.
Each of the three contest winners is assigned a travel region where they will have the opportunity to explore a number of countries, meeting and telling the stories of CIEE participants, staff, host families, teachers, employers, and alumni. Maine's own Alex Coppola, a Yarmouth based freelance writer and substitute teacher will cover Europe and Asia. He will depart from Boston on Thursday June 16th, 2011 and will have his first stop in Dublin, where he will stay for three days, before continuing on to Brussels. Other stops on Alex's itinerary include: Groningen, Amsterdam, Berlin, Paris, Amman, St. Petersburg, Shanghai, Beijing, Mumbai and Hyderabad.
The second winner is Shay Spaniola from Detroit, Michigan. Her focus will include Africa and Spain stopping in locations such as: Barcelona, Palma de Mallorca, Seville, Rabat, Cape Town, Gaborone, Legon, Dakar, Bahia, Santo Domingo, Monteverde, Guanajuato and Santiago.
The third winner, Ezequiel Coeli Canobbio from Argentina, will spend his two months traveling through various regions in the U.S. including: Portland, Long Island, New York City, Cape Cod, Washington DC, Wildwood, Wisconsin Dells, Grand Canyon, Las Vegas, Galveston, Houston, Colorado Springs, Angel Fire, Big Sky, Yellowstone, Grand Teton and San Francisco.
Each of the three travelers has media arts backgrounds and will blog on a daily basis using Facebook, Twitter, and Flickr to share their stories. Follow Shay, Alex, and Ezequiel with their videos, photos, interviews, and blogs at: ciee.org/235
For more information about Hurley Travel Experts, visit their site: travelexperts.com.
Media Contact: Angie Helton, Northeast Media Associates (207) 653-0365 nema(at)maine(dot)rr(dot)com
About CIEE: CIEE is a non-profit, non-governmental organization. Their mission is one shared by many in international education: "to help people gain understanding, acquire knowledge, and develop skills for living in a globally interdependent and culturally diverse world." To fulfill that mission, CIEE provides both outbound international education experiences for university students, faculty, and administrators, and study, work, and internship opportunities for people coming into the U.S.
About Hurley Travel Experts: Founded in 1993 by Pamela Hurley-Moser, Hurley Travel Experts is a travel management company specializing in business travel, corporate incentive and group travel, and vacation travel. Their expert travel advisors are experienced in the most complex travel technology, vacation travel planning, corporate event management and daily business travel management services. Hurley Travel Experts develops strong relationships with clients based on travel insight, travel planning guidance and consumer travel advocacy.
###