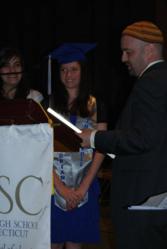 "Tonight we celebrated our student halutzim (pioneers), their accomplishments and how they have all positively been affected by the unique mission and educational philosophy of JHSC."
Bridgeport, CT (PRWEB) June 16, 2011
Less than one year after opening its doors to students and their families, the Jewish High School of Connecticut ("JHSC") celebrated its Siyyum & Graduation: Completion of our First Year last night.
Siyyum (meaning termination in Hebrew) is a joyous celebration observed by Jews, as when a study group completes a section of the Talmud. At JHSC, the Siyyum marks the ending of the high school's first year and for the school's first graduate Anna Brosler, the ending of her high school years.
"Our Siyyum celebrated the High School's first year", says Rabbi Edward Harwitz, Founding Head of School. "Tonight we celebrated our student halutzim (pioneers), their accomplishments and how they have all positively been affected by the unique mission and educational philosophy of JHSC." Those in attendance experienced presentations and reflections by JHSC students on academic work in science, history, humanities, Hebrew language & Jewish literature and the fine arts, along with performances by the Jazz/Rock Ensemble, Jazz Prophets. The JHSC PTSO sponsored the evening ending with a dessert celebration.
As a co-educational high school serving students from all Jewish backgrounds, JHSC provides a rigorous, comprehensive curricular and co-curricular program of Jewish and General Studies, athletics and the arts in an environment that encourages spirited discussion and cultivates critical thinking.
"The transformation I have seen in these students has been remarkable," says Maureen Dewan, President of the Board of Trustees. "Listening to how important science, math, social studies and English is to them and how they see Judaism's role within each subject matter reinforces the mission and role of JHSC in our community."
"For Anna Brosler, this year marked the completion of her high school career," says Harwitz. "Anna is our first graduate but most of all she an amazing person. We are very proud of her and wish her much success as she goes off to college," adds Harwitz.
To learn more about JHSC visit http://www.jhsct.org, call 203.275.8448 or email us at info(at)jhsct.org.
About JHSC:
The mission of the Jewish High School of Connecticut (JHSC), a new pluralistic Jewish day school community, is to educate Jewish youth for whom Jewish values and traditions shape and guide their lives and for whom learning and responsible action are the foundation for achievement. JHSC is the beneficiary of a leadership gift from Michael Steinhardt. JHSC receives funding from the Jewish Federation of Greater New Haven, the Jewish Foundation of Greater New Haven, United Jewish Federation of Greater Stamford, New Canaan and Darien, UJA/Federation of Westport -Weston-Wilton -Norwalk, UJA Federation of Greenwich and the Annual Campaign of the UJA/Federation of Eastern Fairfield County. JHSC is a School Subscriber of the National Association of Independent Schools (NAIS), a member of RAVSAK: the Jewish Community Day School Network and received a New Schools Grant from the Partnership for Excellence in Jewish Education (PEJE).
###