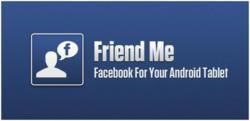 I want apps that do what they promise, do it well, and without a lot of aggravation."
Richmond, VA (PRWEB) June 17, 2011
Locomo Labs, a mobile application development company focusing exclusively on the Android platform, announces the release of "Friend Me," a Facebook application designed specifically to work with the Android tablet and Honeycomb, the newest version of the Android operating system. Friend Me is a free application with no advertising, available for download now from Android Market.
Galaxy users have long complained about the shortage of applications designed for tablets that run Google's new Android operating system. Many apps designed for Android phones also work on tablets, but they don't always run well or take full advantage of the tablet's larger screen.
"There was a clear need for a Facebook app that makes good use of the tablet's size and features," commented application developer and Locomo Labs founder, Chris Stewart. "I build apps that respond to what the market wants, but I'm also a consumer. Just like everybody else, I want apps that do what they promise, do it well, and without a lot of aggravation."
Friend Me includes many of the Facebook features most-requested by the Android user and development community. New features will continue to roll out in the coming weeks.
Friend Me Features

Tailored Experience for Your Android Tablet
Friend Me takes advantage of the latest technologies of Android 3.1. The tablet-centric design offers an experience that best utilizes your device.
Quickly and easily browse the latest news from your Facebook friends.
Stay in touch by liking and commenting on news items posted by your friends.
Easily view your profile info, wall, and photo albums.
Explore a list of your Facebook friends and drill into their profile info and wall.
Beautifully experience your photo albums on the tablet, then read and contribute comments.
Play your favorite Facebook games directly in Friend Me. Friend Me offers a web view of your Facebook games, a feature of the Android platform.
About Locomo Labs
Locomo Labs, is a mobile application development company focused exclusively on the Android platform. We are dedicated to building hassle-free apps that consumers enjoy using and love sharing. Locomo Labs is the maker of Newsr and TweetComb, tablet-optimized apps available on the Android Market. For more information, visit http://locomolabs.com
###