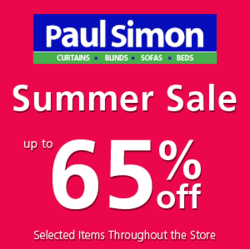 We always strive to offer our customers a carefully maintained balance between the best qualify furnishings and the best value for money
(PRWEB) June 17, 2011
One of Britain's biggest home furnishing chains has just launched their Summer Sale, offering customers up to 65% off selected products.
Paul Simon, one the UK's largest home furnishing providers has followed on from their successful Spring Savers promotion and is now offering customers even further reductions throughout their 51 stores across England and online.
Lee Learner, Purchasing Manager at Paul Simon said: "We always strive to give our customers the best in price and quality. Our Summer Sale promotion is guaranteed to offer great reductions on our already low prices, with fully lined curtains from as low as £14.99 and blackout blinds from as little as £7.99. Not only this, but selected beds, mattress and sofa ranges are being slashed by up to 65%. Our Spring Savers promotion was very successful and we have responded to customer feedback, which found that they reacted well to the reductions in price.
Here at Paul Simon, we understand that when furnishing your property, costs can quickly add up, so we ensure that keeping prices down stays fully engrained into our company's ethos. We always strive to offer our customers a carefully maintained balance between the best qualify furnishings and the best value for money."
As a company, Paul Simon are renowned for offering great reductions in prices as shown in their previous Spring Savers and Blue Cross Sales. Their summer sale is expected to run from the 16th June to the 28th July and includes big savings like the Moonlight Double Bed, reduced from £1,139 to £399 and the Trinton Sofa range down to £349 from £699. Paul Simon is very confident that these prices are the best that they have offered.
Since their launch in 1990, Paul Simon has won awards in the home furnishings sector including Independent Readymade Goods Retailer of the Year and Soft Furnishings Retailer of the Year. Paul Simon continually searches to expand their product line, always searching for new designs that they can offer to their customers at the best prices. Answering to their customer's requirements, they have increased their product range over the years to include rugs, beds, bed linen, furniture, blinds and curtain accessories, all at affordable prices.
Notes to editor(s)
Launched in 1990, Paul Simon is an award winning curtain retailer.
Paul Simon offers one of the biggest ranges of curtains, beds and blinds in the UK.
Paul Simon currently has 51 branches across England, open 7 days a week. They also operate a successful online store.
###