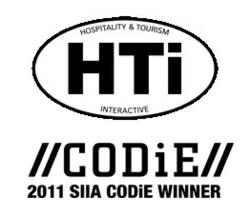 New York, NY (PRWEB) June 16, 2011
Hospitality & Tourism Interactive from Pearson is this year's winner of the Software & Information Industry Association (SIIA) CODiE Award for Best Education Game or Simulation. Students at more than 110 colleges and universities in the US are exploring careers in the hospitality industry in this 3-D learning environment.
Established in 1986, the CODiE Awards honor outstanding achievement across the software, digital information and education technology industries. Nominated products undergo an intensive review by subject matter experts, analysts, journalists and other respected authorities in education technology. This year's 30 education CODiE winners were selected from more than 425 nominations.
"Educational gaming and simulation present boundless possibilities for preparing students for careers in today's evolving job market. With Hospitality & Tourism Interactive, students become immersed in the world of hospitality careers. They learn the ins and outs of the industry, and develop valuable customer service insights and other skills that they will need to be successful in the diverse & growing hospitality and tourism area," said Tim Bozik, CEO of Pearson's Professional & Career group. "We are honored that the technology community has recognized Pearson's Hospitality & Tourism Interactive with this coveted award."
Hospitality & Tourism Interactive uses activity-based learning to allow college students to gain practical experience in developing customer service, service quality and leadership skills. Set in the virtual world of Little Wolfe Island, Hospitality & Tourism Interactive features 16 properties on the island, including a fine-dining restaurant, casual dining establishment, full-service hotel, boutique hotel, tiki bar, casino, water park and ecotourism rainforest tour. Students meet characters (avatars) that share information about their jobs and give activities to complete. To watch a video about Hospitality & Tourism Interactive, click here.
Hospitality & Tourism Interactive is one of three Pearson products earning prestigious 2011 CODiE Awards. Also honored this year were MyMathLab Algebra I and II, a homework and assessment program and Words Their Way Online Workshop, an interactive professional development tool.
About Pearson
Pearson, the world's leading learning company, has global reach and market leading businesses in education, business and consumer publishing (NYSE: PSO).
For more information, press only:
Lisa Wolfe, L. Wolfe Communications, 773-227-1049, lwolfe(at)lwolfe(dot)com
###