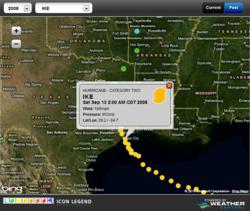 The hurricane season is starting to heat up and we are putting the focus on preparedness.
Madison, Wisconsin (PRWEB) June 16, 2011
Weather Central—provider of the most-viewed broadcast weather system in the world—today released its first public hurricane forecast, predicting more activity than normal during the 2011 hurricane season in the Atlantic Basin. Prepared by Weather Central's veteran team of meteorologists, the forecast coincides with the release of Weather Central's new online hurricane tracking solution. Hurricane Tracker enables media companies to add a complete hurricane information package to their website which will then be automatically kept up to date with the latest data from Weather Central.
"The hurricane season is starting to heat up," said Weather Central president Bill Baker, "and we are putting the focus on preparedness. The hurricane forecast from Weather Central was created by the same team of experienced meteorologists that works behind the scenes to help broadcasters deliver the right forecast to millions of people every day. Our intent is to enable everyone—the broadcasters who deliver the forecast, the insurers who underwrite valuable coastal property, and the public who must live with the impact of storms—to make good decisions and be prepared to fulfill their role."
Weather Central forecasters are predicting that the Atlantic Basin will see more activity than normal during the 2011 hurricane season, which runs from June 1 to November 30. Forecasters are calling for 13-16 named storms (tropical cyclones earn their name when sustained winds reach 39 mph or higher). Of those named storms, 6-9 are expected to reach hurricane status (with winds of 74 mph or higher), and 3-5 are projected to become major hurricanes (with winds of 111 mph or higher). The seasonal average for the Atlantic Basin includes 11 named storms, 6 hurricanes and 2 major hurricanes.
The report highlights four primary factors behind its prediction:
1) The continuation of the high activity era which began in 1995
2) Above normal sea surface temperatures in the Main Development Region (MDR) for tropical cyclones
3) The expected shift from La Niña to nearly El Niño-Southern Oscillation (ENSO)-neutral conditions; however, some atmospheric characteristics from the current La Niña episode will likely persist into the hurricane season
4) Dynamical models that generally predict conditions indicative of an active season
The hurricane forecast from Weather Central can be found at: http://www.wxc.com/assets/hurricane2011.pdf.
The new Hurricane Tracker web solution from Weather Central enables media companies to deliver critical information to their audience directly from their website. Hurricane Tracker is easily sized and skinned to fit into a media company's web site while integrating with existing branding. Automatic browser detection ensures content is displayed correctly on any device, including iPads. Hurricane Tracker is a powerful addition to any weather site, offering features such as:

Automatic detection of current storms
Historical data on previous storm tracks
Animated tracks for current storms and historical tracks for previous storms with detailed checkpoints for windspeed, direction, location and more
Zoom in to street level using Bing maps
Level II radar
A demonstration of Hurricane Tracker is available at: http://www.wxc.com/interactive/hurricanetracker.htm.
To reinforce the significance of this forecast, Weather Central is scheduling hurricane preparedness seminars for its broadcast TV clients to ensure they make full use of their weather systems in sharing this information with the public. Members of the Weather Central team will be on hand at The Cable Show, June 14-16 in Chicago and the American Meteorological Society Conference, June 22-25 in Oklahoma City.
For a complete look at Weather Central's solutions for on air, online and mobile weather presentation, visit http://www.wxc.com.
About Weather Central, LP Weather Central, LP, founded in 1974 by broadcasters and meteorologists based in Madison, Wisconsin, is the leading provider of professional on‐air, online, print, mobile and enterprise weather solutions and forecasting in North America and to major customers worldwide. Utilizing the Company's dynamic weather graphics, precise forecast models and data, and patented technology, more than 1000 partners and hundreds of millions of consumers worldwide benefit from Weather Central's attention to weather presentation, detail and insight.
© 2011 Weather Central, LP, Madison, Wis. All rights reserved. Product specifications and availability are subject to change without notice. Weather Central LP, :LIVE, GENESIS:LIVE, 3D:LIVE, ESP:LIVE, Weather Central MagicTRAK, LiveLine GENESIS, A.D.O.N.I.S. MicroCast, A.D.O.N.I.S. FutureCast, StormSentinel DV, WxWarn2, ScreenWRITER, SportsWRITER, SimulCAST, X‐Vision, Storm Vitals, TelePath, RainVision, SnowVision, FunnelPATH, CellPATH, HailZONE, GustZONE, MessoPATH, Always‐On Training, Instant Mapping and WxPoint are either registered trademarks or trademarks of Weather Central LP.
All other trademarks contained herein are the property of their respective owners.