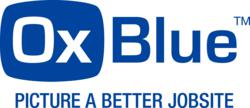 As demand for our cameras continues to grow, we knew we needed to evolve our business to keep pace."
Atlanta, GA (PRWEB) June 28, 2011
OxBlue, a leader in the construction camera industry, announced today several new staffing additions in order to meet increasing demand for construction cameras on jobsites across the country.
"More and more we see that projects must have essential jobsite monitoring and project verification," declared Chandler McCormack, CEO of OxBlue. "The industry as a whole recognizes that these tools build collaboration within project teams, clarify what's happening on the jobsite at any given moment, and protect contractors from any unnecessary liability. As demand for our construction cameras continues to grow, we knew we needed to evolve our business to keep pace."
The new hires include:

Director of Marketing: Sue Silva
CFO: Mindy Baker
National Sales Consultant: Peter Case
Production: Alex Cheng
Tech Support: Natalie Susavee
All new staff additions will be located in the firm's Atlanta headquarters. According to McCormack: "We've selected highly motivated individuals to help us expand our offerings in easy-to-deploy, self-sustaining, high-resolution construction cameras. Look for exciting new developments in OxBlue over the coming months as we continue to grow to meet the needs of the increasingly sophisticated construction marketplace."
About OxBlue
OxBlue is a leading construction camera service provider, giving numerous Fortune 500 companies the hardware, connectivity and expertise to enable constant access to jobsites through high-resolution construction webcam images. OxBlue's construction cameras connect people on and off site, and measure variables such as labor, risk, quality and materials. The cameras provide accountability and increase communications between construction companies and clients.
###