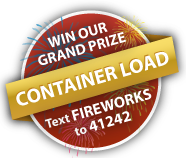 Vancouver, WA (PRWEB) June 18, 2011
Spend the day kicking back on the lush lawns of the Fort Vancouver National Site, interacting with Abe Lincoln and other historic figures at the Heritage Stage, partying down with friends in the Adult Beverage Pavilion or grabbing the kids to enjoy traditional family fun games and entertainment all day.
Fort Vancouver has a 47-year history of providing our community with an exceptional fireworks display – and the best is yet to come. Using state of the art fireworks synchronized to music, the 2011 display will once again be launched from Pearson Field, providing attendees an unbelievably exciting and intimate fireworks show.
With Prime Viewing tickets, enjoy all the activities the site has to offer throughout the day, then retreat to your exclusive Prime Viewing area and be treated to a tasty 4th of July picnic dinner, an exclusive entertainment stage, and front row seats to the spectacular fireworks show.
Mean Gene's has been providing families with fireworks for the last 25 years. What started as a single firework stand location has now grown to 7 firework stands in the greater Vancouver, WA area. Mean Gene's specializes in a huge selection of fireworks imported from China. Some of the firework products Mean Gene's offers are: Destroyer 24 Mortar kit, Premium artillery shells, Festival Balls, Super Stallion, Super Nova similar to the Excaliber, 17 Shot Matador, King of Pyro, Family Packs, Roman Candles, Saturn Missiles and more. Click here to find a Vancouver fireworks location.
Mean Gene's will be giving away a Container Load of fireworks valued at $500. Simply text the word fireworks to 41242 to be entered to win. One lucky winner will be notified by phone and be able to redeem their prize on the 4th of July at the Camas, WA location.
Standard Text message rates may apply, please check rate plans for details. Mobile numbers are safe will never be sold for any reason.
###