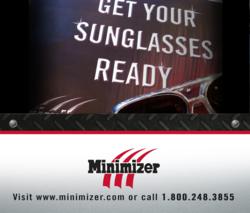 Blooming Prairie, MN (PRWEB) June 16, 2011
"To quote Joseph Biden, this is a big !#@?$# deal," says Craig Kruckeberg, Chief Visionary Officer of Minimizer. "Customers keep asking for new and innovative products, they ask us to keep moving the needle. Well, we did. We keep investing and we're really excited about this new product. It's going to turn the truck fender industry upside down!"
The launch venue will be The Great American Truck Show in Dallas, Texas. On Thursday, August 25 at 1:15pm you'll want to be on the tradeshow floor at the Minimizer Booth #18092.
"It's going to be a party. We're going to show everyone this new product, its features, the uniqueness of it and the Minimizer durability everyone has come to know, and you better get your sunglasses ready," says Kruckeberg.
In fact, Minimizer will be giving away 1,000 pairs of sunglasses over the course of the tradeshow for those attending the daily launch festivities at their booth.
The product identity and it's unique features are being kept under wraps. The only comment the Company has is "get your sunglasses ready."
About Minimizer
Headquartered in Blooming Prairie, Minnesota, USA, Minimizer manufactures poly truck fenders, poly toolboxes, custom mud flaps, and bracket kits. Family owned and operated for nearly three generations, Minimizer parent company Spray Control Systems, Inc., was founded in 1983. Minimizer aims to provide products tough enough to please tough people in a tough industry. For more information call (800) 248-3855 or visit http://www.minimizer.com.
###