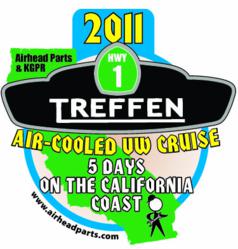 We are proud to sponsor our 13th annual vintage VW car cruise and show. It's also been great to get the community involved to support FOOD Share and Feed America.

Scott Dempster
President
Airhead Parts
Ventura, CA (PRWEB) June 20, 2011
July 31st – August 6th, 2011 Treffen Vintage VW 1,000 mile Hwy 1 Cruise & Show; Portland OR to Ventura, CA.
One week Cruise of California's beautiful and historic Hwy 1 sandwiched between two VW shows – Rose City (Portland, OR) Bug-In Sunday July 31st , and the VW Treffen13, (Ventura CA) Saturday Aug. 6th. Cruise departs from the Bug-In Sunday August 31st immediately following that show.
Free admission to the event at the harbor. Hundreds of beautifully restored vintage VW's will be competing in over 20 classes. Ventura County Food Share will again be the featured community partner, as attendees are encouraged to bring two cans of food to help those locally in need.
Be one of the Air-cooled VWs or Vanagons trekking through Big Sur overlooking the Pacific Ocean from the famous cliffs and bridges of one of the world's most scenic highways. Trip includes stops and/or group tours of the giant redwoods, Big Sur beach combing, wild Elephant Seal viewing, Pismo beach drive, Go Westy breakfast and shop tour and several beach parties and cook-outs thrown in.
Join the cruise for 6 blocks or 6 days anywhere along the way to Ventura, where on Friday August 5th, Airhead Parts will hold an Open House featuring a Free Barbeque and 10%-50% off sale 2 p.m.-6 p.m. The next day, Saturday August 6th is the VW Treffen 13 FREE Show for show cars, swappers, and attendees (a two can food donation for the local food bank is requested). There's too much to list for the week long vacation of VW shows and cruising.
Get show information online and enter to win give hundreds of dollars in certificates, car covers, t-shirts and more: http://www.airheadparts.com/cruise
For more information on events, locations, accommodations, maps, and more, go to: http://www.airheadparts.com/cruise or call 800-550-6036.
Brought to you by Barber VW, Go Westy, Always VW, Karmann Ghia Parts & Restoration, Bill's VW Repair – Eureka CA, West Coast Wolfpack VW club and of course Airhead Parts.
# # #