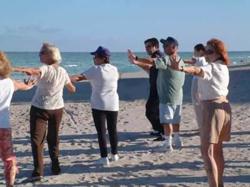 Chi Ga is now introduced as exercise of choice for arthritis and sports injuries.
Miami, Florida (PRWEB) June 20, 2011
Center for Regenerative Medicine in Miami Florida, just released a new exercise program. According to Dr. A.J. Farshchian MD the medical director for the center for regenerative medicine, Chi Ga will be the exercise of choice for patients suffering from arthritis and sports injuries.
Farshchian later said: Every day, in parks, gyms and on the beaches across America, people are practicing tai chi. As they gather around and move together in harmony through a series of slow and synchronized postures, it may look as though they are performing some kind of dance or ritual.
What they are actually doing is an ancient Chinese practice designed to exercise body, mind and spirit. As they move through tai chi postures, they are gently working muscles, focusing concentration, and, according to Chinese philosophy, improving the flow of "qi,"the vital life energy that sustains health and calms the mind.
The physical therapy program is important to optimize the success of The Center for Regenerative Medicine's treatments. The program is designed to promote the ideal nutritional support for the muscular skeleton system.
Farshchian later added that it took the center for regenerative medicine about 2 years to produce this video that was entirely taped in studios in Miami. The video is currently priced at $25.
# # #