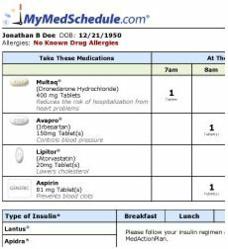 My husband and I have been using MyMedSchedule.com to keep track of our medications for the last couple of years. It has really simplified a complex process for us."
(PRWEB) June 22, 2011
MyMedSchedule is a recipient of the 2011 Caregiver Friendly Award, recognizing the free online program for its ability to help caregivers and patients with their medication compliance.
The Caregiver Friendly® Awards are presented by Today's Caregiver magazine. Today's Caregiver magazine and caregiver.com, launched in 1995, are published by Caregiver Media Group, which also produces the Fearless Caregiver Conferences.
"The average caregiver is responsible for over $40,000 in health related expenditures each year, in either personal or directed funds" Says Gary Barg, Today's Caregiver magazine's Editor-in-Chief, "This award is designed to help family caregivers recognize and reward those organizations who care for them in as committed a manner as they care for their loved ones."
MyMedSchedule.com is an online program that allows caregivers, patients, or anyone on multiple medications and vitamins to stay organized and remember to take their meds. It allows its users to create, save, print and revise a medication schedule with medication pictures, times-to-take, quantity and purpose. It also offers daily and weekly checklists, large-font size, wallet-size, both in English and Spanish, and reminders to refill medications and take those meds at certain times. MyMedSchedule is also available with iPhone and Android.
Since 1981, MedActionPlan CEO Tim Peters has specialized in creating innovative health education programs that increase patient understanding. But improving patient awareness is just a start toward improving adherence. In 2005, MedActionPlan introduced the next step: a web-based tool that helps the healthcare provider to quickly create, document and print a personalized medicine schedule—a MedActionPlan—for each patient. In 2007, MyMedSchedule was introduced, allowing patients and caregivers to create their own medication charts and reminders.
For additional information, free brochures or to discuss partnership opportunities, please contact:
Donna Brooten,
MedActionPlan.com, LLC
87 Main Street
Peapack, NJ 07977 USA
908 234-1701
donnab(at)medactionplan.com
###