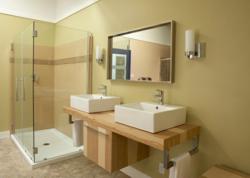 The renovation process begins online at Bath Simple's website, www.bathsimple.com.
Berkeley, CA (Vocus/PRWEB) June 20, 2011
Bath Simple, Inc., the complete bathroom design and remodeling service, is radically simplifying the bathroom renovation experience nationwide. By offering innovative and integrated products systems, easy-to-use online tools, an in-home design service, and single-container delivery, Bath Simple is able to streamline the process of designing, ordering, and installing a custom bathroom, regardless of price.
The renovation process begins online at Bath Simple's website, http://www.bathsimple.com, which features a gallery of beautiful bathrooms and associated products, together with design tips and ideas to inspire, inform, and help you envision your ideal bathroom.
The next step is to schedule a complimentary in-home consultation with one of Bath Simple's network of professional interior designers, who will visit at your convenience to answer questions, provide product and materials samples, take measurements, and help make product selections. With the designer, you will then use Bath Simple's signature online design tool to create a virtual 3D representation of your new bathroom.
Once you finalize design and product choices, the entire bathroom is shipped to you in a single box, ready for immediate installation by either a Bath Simple contractor partner or one of your own choosing. This "One Box. One Bathroom." shipping system is highly efficient, saving time, money, energy and materials. What's more, the shipping container doubles as a waste receptacle for packaging materials, construction debris, and discarded bath fixtures, allowing for easy local recycling whenever possible.
Together with its network of designer and contractor partners, Bath Simple has already brought its revolutionary bathroom design and installation process to San Francisco, Portland, Seattle, Boston, and New York City. Chief among its many benefits, Bath Simple's fully integrated design, delivery, and installation model makes it unnecessary for homeowners to visit a myriad of showrooms, allowing them to complete the whole bathroom renovation process from the comfort of home.
Bath Simple is excited to be bringing this innovative solution to homeowners across the country. To find out more, visit http://www.bathsimple.com or call 800-699-2618.
###