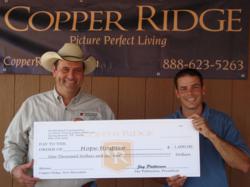 New Braunfels, Texas (PRWEB) June 18, 2011
Copper Ridge is teaming up with local businesses to help raise money for surrounding charities. The "Live Beyond Challenge Event" in July will be the first time this program is being implemented into the company. Attendees will enjoy food from Clear Springs Restaurant, fun, activities for the kids and free helicopter rides! There will also be a Home Design Mini Expo at Copper Ridge to give everyone the opportunity to talk to the experts regarding home building and improvement projects.
For every homesite purchased at Copper Ridge during this event, a $1,000 donation will be made to Hope Hospice, as the featured charity partner of the month. Copper Ridge has guaranteed a commitment of at least $1,000 to present to the Hope Hospice representative who will be present to accept the donations.
What is the "Live Beyond Challenge"?
The "Live Beyond Challenge" partners Copper Ridge, local business sponsors, and non-profit organizations with the common goal of hosting monthly events focused on giving back to the community. Copper Ridge has agreed to donate $1,000 from every land purchase made during a "Live Beyond Challenge Event" to a chosen charity each month. The company has also guaranteed an event contribution of at least $1,000.
"Copper Ridge is extremely excited about the Live Beyond Challenge…we want to express that we are committed to our surrounding area. We want the message to our customers to be… live beyond your expectations in every way. We are all thankful that we live and work in a beautiful area of the Hill Country with such wonder and extraordinary people." says Jay Patterson of Southerland Communities. In any way we can…we want to say thank you."
Copper Ridge is launching the "Live Beyond Challenge 2011" as a way to further their connection and commitment locally. Every month for the next year Copper Ridge will be partnering with local businesses and charities to create a give-back event.
About the Copper Ridge Property:
Copper Ridge is a beautiful Texas Hill Country community featuring 1 to 3 acre parcels situated in New Braunfels, Texas. An extensively landscaped gated and guarded entrance welcomes residents to Copper Ridge. Just beyond the entrance are beautiful homesites and the community park that features a resort-style pool, Texas-style pavilion with fireplace, BBQ and picnic tables, tennis and basketball courts and scenic walking trails.
What makes Copper Ridge so perfect is a dominant ridge that provides incomparable views from every vantage point. The ridgeline's east to west orientation is gradually terraced, thus affording almost every ridgeline property owner unobstructed panoramic view of the distant hills, the peaceful meadows below and sunrises and sunsets of every hue. The ridgeline gradually transitions to grassy meadows with islands of oaks and cedar elms. The space is open enough to afford big sky views while providing the right amount of cover to separate you from your neighbor.
Copper Ridge is an affiliate of National Land Partners, LLC, the largest and most successful buyers and sellers of recreational and residential land in America. Their mission is to help every day people realize their dream of land ownership... to help them find the perfect piece of property where they can build a home.
You are invited to join us at Copper Ridge to celebrate the kick off of the "Live Beyond Challenge 2011!"
SAVE THE DATE:
"Live Beyond Challenge 2011" Kick-Off
DATE & TIME:
Saturday, July 2, 2011 from 11:00 a.m. – 6:00 p.m.
(Main Event Day)
Sunday, July 3, 2011 from 12:00 p.m. – 5:00 p.m.
EVENT LOCATION:
Copper Ridge Property
5737 Hwy. 46 - New Braunfels, Texas 78132
(Located in the Texas Hill Country on Hwy 46,
just 5 miles west of New Braunfels and Loop 337)
###