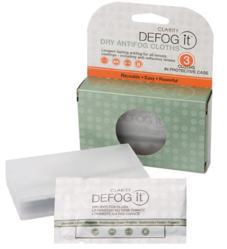 Valley View, OH (PRWEB) June 20, 2011
In the workplace there are five situations that can increase hazardous fogging of safety glasses or safety goggles. To help safety professionals predict and address these hazards, [Defog It anti fog has recently added 5 Fogging Danger Zones that Make Safety Eyewear Unsafe to its online resource center. The report examines fogging factors that compound heat, cold, humidity or worker exertion, and which can decrease compliance with protective eyewear recommendations.
[5 Fogging Danger Zones joins an expanding library of publications for safety professionals, workers and consumers in search of research on the role of fogged safety eyewear in workplace eye safety compliance, case studies on the role of anti fog in improving workplace safety and safety eyewear compliance, and eye safety tips for workplace and home. The library features information in safety training, pulp & paper, utilities, mining, tree care, law enforcement, construction and the military. There are also helpful eye safety tips for adult and children's sports, do-it-yourself home projects, snow sports and hunting.
"Research with workers showed that 100% of focus groups named fogging as a factor for not wearing safety eyewear, and over 55% of respondents suggested an anti fog solution to increase usage of personal protective eyewear," says John Swett, vice president of Sales and Marketing. "Defog It anti fog is a response to the call for increased workplace safety."
First used by the military worldwide, Defog It is the proven safety choice in the toughest workplace environments where heat, cold, humidity and exertion cause fogged safety eyewear. It's used in forestry, utilities, pulp and paper, mining, chemical processing, law enforcement and other industries. The product is safe and effective on safety glasses, goggles and faceshields.
Rigorous lab testing confirms the real-world high performance of Defog It antifog. In one test, a lens treated with Defog It was held over constant hot steam for 60 minutes without fog forming. Similar products failed in as little as 5 minutes. In another test, lenses coated with Clarity Defog It were moved between cold and hot environments 100 times without fog forming.
Defog It is available as a liquid or reusable cloths. More information, pricing and performance videos are available at http://www.defogitworks.com or by calling 1-888-ENDS-FOG.
Nanofilm, founded in 1985, is the maker of Clarity Defog It and a global optical leader in lens care and coatings. Millions of people around the world use Nanofilm products, including Clarity Clean It™, Clarity Defog It™ and other lens care products, as well as nanotechnology-enabled coatings.
###