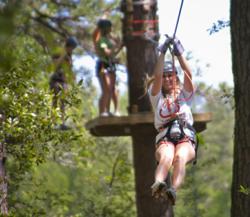 Only $48 for $213.50 worth of Summer Fun activities including UNLIMITED golf, boating, biking and the NEW TreeTop Adventure
Pine Mountain, GA (PRWEB) June 16, 2011
Looking for some great Summer fun at a great value? Looking for something that will entertain the children and the adults? The new Ultimate Summer Fun Pass at Callaway Gardens is the perfect answer.
Simply stay overnight and purchase this Summer Fun Pass for only $48* per person, per night. The pass, valid from 9 a.m. the day of issue until 4 p.m. the next day, allows guests to enjoy all of Callaway Gardens' recreational offerings – the new activities such as TreeTop Adventure (normally $30 per person), Aqua Island, Blaster Boats and Light Striker Laser Tag as well as favorites including golf (normally $64 per round on Lake View), tennis, boating, kayaking, canoeing, bicycling and more. To pay to participate in all of these activities individually would cost $213.50 per person, per night. With the Ultimate Summer Fun Pass, all of these activities are included for just $48 per person, per night.
And, at Callaway Gardens, families can enjoy an active getaway filled with unique and multi-generational recreational activities and the chance to create lifelong memories. The new TreeTop Adventure, featuring 20 aerial challenges and five zip lines, is an adrenaline pumping experience providing bragging rights for years to come.
The Ultimate Summer Fun Pass includes:

NEW TreeTop Adventure, the NEW attraction featuring 25 aerial challenges including five zip lines
NEW Aqua Island, a floating playground at Robin Lake Beach
NEW Blaster Boats
NEW Light Striker Laser Tag
Golf on Lake View Golf Course (cart fee is additional)
Bicycle rental
Jonboat rental
Kayak rental
Canoe rental
Tennis court time
"This new Ultimate Fun Pass is such a great value. It definitely makes the decision easy. It includes everything so you don't have to pick and choose what you want to do," said Edward Callaway, chairman and chief executive officer of the Ida Cason Callaway Foundation™. "We know families are looking for a place with wholesome activities and entertainment that they can enjoy together. Callaway Gardens was created to be a place where all can relax and reconnect with each other in nature. We hope this great value helps families do just that."
In addition, staying overnight at Callaway Gardens provides guests a host of entertainment options unique to the destination, such as acres of breathtaking Gardens, the Cecil B. Day Butterfly Center – a four and one-half acre conservatory filled with more than 1,000 tropical butterflies, a daily free-flight raptor show, the beauty of the John A. Sibley Horticultural Center, and free and unlimited access to the Callaway Fitness Center at the Mountain Creek Inn. And, guests should be sure to take in the amazing feats of the Florida State University Flying High Circus.
Guests can take advantage of the Callaway Gardens Ultimate Summer Fun Pass from now through September 5, 2011. Rates in the Mountain Creek Inn start at $99* per night. Southern Pine Cottage and Mountain Creek Villa rates also are available. For additional information about the Ultimate Summer Fun Pass and more, visit http://www.callawaygardens.com or call 1.800.CALLAWAY (225.5292) to make a getaway reservation!
Callaway Gardens is in Pine Mountain, Ga., 60 minutes southwest of Atlanta and 30 minutes north of Columbus, Ga.
Non-transferrable. Some restrictions apply. Taxes and gratuities are not included. Blackout dates may apply. First reservation for TreeTop Adventure and golf will be made at time of room reservation. Activities may be repeated on a space-available basis. Proper attired required for golf and tennis. Purchase of pass does not guarantee guest will be able to do all activities before pass expires. Cottage and Villa guests also may purchase the Summer Fun Pass.
About Callaway Gardens
For almost 60 years Callaway Gardens has provided "a place of relaxation, inspiration and a better understanding of the living world" for millions of visitors. Owned and operated by the non-profit Ida Cason Callaway Foundation, Callaway Gardens includes a garden, resort, preserve and residential community on 13,000 acres in Pine Mountain, Georgia. Highlights include a butterfly conservatory, horticultural center, discovery center, chapel, inland beach, nature trails and special events throughout the year.
In addition, Callaway Gardens offers nearly 80,000 square feet of meeting space, 763 guest rooms, restaurants, a full-service spa, shops, golf, tennis, fishing and more.
Five unique, close-knit residential communities with custom home sites, lakefront properties and cottages on the golf course – offer an ideal home away from home or full-time residence.
Callaway Gardens is home to a 4,610-acre forest preserve, which is under conservation easement. This conserved, sustainably-managed land is used for biological studies and environmental education programs.
###