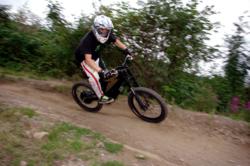 These Tactical Bikes will allow troops a faster and safer way to deploy into (and out of) harm's way.
Phoenix, AZ (PRWEB) June 20, 2011
Stealth Electric Bikes USA now offers the powerful Fighter Stealth Electric Bike at a new low weight of only 75 lbs. This includes the same performance increase made available just a few months ago, plus options to add custom enhancements for optimum performance for smooth and rugged terrains.
"Customers can now customize the suspension with new duel crown forks that are tough enough for rough mountain bike passes and strong enough to endure just about any jump." said Darin Brin, Director of Stealth Electric Bikes USA. "Likewise, a new tire upgrade also gives customers the option to go with a smoother high performance tread that is perfect for paved trails and riding on asphalt roads," said Brin.
Stealth Electric Bikes USA is dedicated to providing consumers new customization options for the same high speed and high performance bikes recently made available to military and law enforcement agencies at the 2011 Department of Defense sponsored Force Protection Equipment Demonstration (FPED VIII).
Bob Dowling, a Subject Matter Expert with Tactical, LLC based in Washington, D.C. said, "These quiet, fast, and rugged electric bicycles from Stealth Electric Bikes USA are truly amazing. In my professional opinion, this tactical invention is right up there with the Higgins Boat of WW II. Like the Higgins Boat, these Tactical Bikes will allow troops a faster and safer way to deploy into (and out of) harm's way. Our U.S. Government customers were all very impressed with the Stealth Electric Bikes we had on display at FPED VIII," said Dowling. "These new, lighter models are sure to appeal to numerous Government agencies where weight is a tactical and operational consideration."
"These aren't your typical electric Bikes," said Brin. When you need an extremely quite electric bike that can go up to 31 mph in performance mode for nearly 40 miles on a single two-hour charge, then you need the Stealth Electric Bikes that military, law enforcement, and rescue personnel demand.
At only 75 lbs, the new Fighter Stealth Electric Bikes are bringing in new calls for customization. Custom bikes, fully equipped and personalized in a variety of colors are now shipping out in 2 to 4 weeks. Bike enthusiasts who need customizations are urged to order quickly in order to get their bikes delivered as soon as possible.
Due to consumer popularity and demand by new dealers, distribution is now available throughout the United States, Canada, Australia, Germany, France, and the United Kingdom. Stealth Electric Bikes USA will also soon be offering electric bikes throughout Asia.
About Stealth Electric Bikes USA
Stealth Electric Bikes USA will be sending riders to the Interbike International Expo in Las Vegas, September 14th through 16th. 2011
Stealth Electric Bikes USA is based in Phoenix, AZ and can be found online at: http://stealthelectricbikesusa.com
###