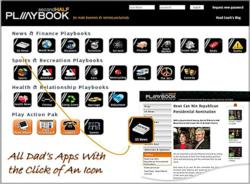 Sarasota, FL (PRWEB) June 17, 2011
Using an iPhone-life icon springboard to deliver content in a consistent format within an internet site that guarantees privacy is the appeal of http://www.secondhalfPLAYBOOK.com. There are no flashing windows, multiple headlines or audio. The site has over 500,000 nodes of content polled from over 400 internet sites, but only four display format pages. One format lists the latest headlines, another displays family photos received, the next is the iPhone-like springboard with icons representing 28 topics of interest, and the last is a content display page.
According to John Montelione, secondhalfPLAYBOOK CEO, "We're extremely sensitive to the needs of male boomers and retirees. We give them the content they want, when they want it in a simple consistent format with no internet obstacles – no typing, no tech complexity and no useless searches."
Although 77% of Americans use the internet usage decreases with age. Less than 30% of men over 60, the wealthiest segment of the US population, are active internet users. By delivering the benefits of the internet without the obstacles and tech complexity , the secondhalfPLAYBOOK enables members to get the information to improve their lifestyle and connect with their kids and grand-kids.
All content, within the site, is stored in multi-media centers called Playbooks. There are 28 Playbooks. They are updated continuously and collectively deliver about 95% of a user's needs. All Playbooks display content in the same page format - content sources are on the left, articles in the center and videos on the right.
To improve family connections, the site provides each member with an Automated Photo Album. It captures, stores and displays photos attached to emails and eliminates the need to access and navigate photo sharing sites or to monitor emails.
The secondhalfPLAYBOOK is a member-based site. A video of the site features is available at http://173.203.102.194/video. A Coach's Corner membership includes all site features - 28 Playbooks, the Automated Photo Album and unlimited telephone support. It guarantees that even a novice computer user will be able to utilize successfully all site features. The membership is $29.95 per year. To purchase a Father's Day gift certificate access: http://www.secondhalfplaybook.com/join-now. All purchases are 100% user satisfaction guaranteed and the secondhalfPLAYBOOK is a PayPal and Authorize.Net verified merchant.
Company Description
The Second Half Playbook, LLC ("Company") is targeting population groups that are not regular internet users. The Company plans to offer membership-based web sites designed to encourage usage and deliver transparently the content and tools to improve a user's lifestyles, family connections and pursuit of interests.
The secondhalfPLAYBOOK.com is built on a state-of-the-art content management system called Drupal. The site utilizes a "dedicated" architecture to deliver content in lieu of the user browsing for content.
The Second Half Playbook, LLC was founded by John Montelione. His prior startups are Mercury Computer Systems; Paragon Imaging, acquired by Ceridian and now a division of Textron; and Guardian Solutions, acquired by the Telephonics division of Griffon Industries.
The Company is located in Sarasota, Florida and is a PayPal and Authorized.NET verified merchant.
###