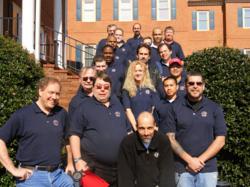 "If an individual is seeking a job today, knowledge of the Microsoft Office Suite is essential. Microsoft Office 2010 has many new and important features for productivity gains," said Rich Rodgers, President & CEO of CED Solution Atlanta, GA
Atlanta, GA (PRWEB) June 18, 2011
In past years CED Solutions has provided free Office Suite training to more than 1,000 individuals. This offering is expected to provide free training to more than 1,000 individuals who are currently unemployed with the hope that with this knowledge, thousands will have the skillsets to be very productive in an office environment.
For the next months, these classes are being delivered online through the computer and computer speakers direct to the student location, or in classrooms in Atlanta and Birmingham, AL. Students will be able to see the instructor screen, listen to the instructor, and follow along on all of the new abilities of the Microsoft Office 2010 Suite.
Individuals may sign up for three free days of training on Microsoft Windows 7 End User, Word, Excel, Access, Powerpoint or Outlook. A confirming email will be sent for the class date(s) for the training. Another email with instructions to log on to the class will sent later.
These classes will cover new and exciting opportunities for content productivity and presentation. Most corporate and governmental organizations have the licenses to install and use Microsoft Office 2010, but have not done so because they have not provided training to their employees. This training will put many unemployed individuals at an advantage, having obtained knowledge on these applications already.
To enroll in the classes, send your email information and which application (Word, Excel, Access, PowerPoint, or Outlook) that is desired to officetraining(at)cedsolutions(dot)com , and a schedule of course dates to choose from will be sent to the student. Indicate which date(s) to attend and their enrollment will proceed.
CED Solutions is very proud to offer this training at no cost to many thousands of unemployed individuals.
CED Solutions offers nearly one hundred different programs for training on applications and operating systems for Microsoft, Cisco, Oracle, Novell, EC Council, CompTIA, SCA, and many others.
http://www.cedsolutions.com, info(at)cedsolutions(dot)com, (800) 611-1840
###