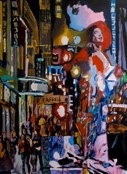 (PRWEB) June 19, 2011
Gilbert Marosi eschews the well traveled path of the traditional artist who seeks to achieve success by emulating successful recipes tried and proven. For instance the painting "Spirits of San Francisco" blends the lovely and ghostly figure of a former opera star with O" Farell Street at twilight.
Her gigantic figure fills the canvas and dwarfs the pedestrian. And yet the composition is harmonious .
Subway scene is a mundane scene of a young woman half drowsing reading a book. But on the left discombobulated and vaguely robotic figures occupy the back of the train.
Bobbing heads is a switch back to the thirties. It comes from a Show window in an antique shop in Little Italy, New York City.
Sketchers is a twilight scene of a San Francisco Street which gracefully blends poster signs with brightly lit department store signs.
San Francisco Chapel is dreamy cityscape where a pristine white chapel hobnobs with a quaint San Francisco street.
Check the full series at San Francisco by night
Also check the full web site at Marosi
###