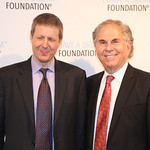 Shmuel and his team at Time To Know dare to rethink education as we know it.
New York, NY (PRWEB) June 17, 2011
Time To Know founder Shmuel Meitar was one of three leaders to receive awards from the "I Have A Dream" Foundation at its spring gala Tuesday evening in New York.
Marc Sternberg, deputy chancellor of portfolio planning, New York City Department of Education, presented the Innovator's Award to Meitar on the foundation's behalf.
"In my line of work, I see many tools that profess to make a difference. Time To Know delivers," Sternberg said. "With this singular development, Shmuel and his team at Time To Know dare to rethink education as we know it."
Meitar, a successful businessman in numerous ventures, has been involved in numerous educational initiatives for more than a decade. He founded Time To Know in 2004 in Israel as a philanthropic endeavor and expanded the company's comprehensive digital teaching platform into an international business to help transform K-12 education.
"I'm honored to receive this award because of my own personal struggles in school as a child," Meitar said. "Seeing the results from students succeeding in school is, for me, the most valuable thing in my life."
In addition to Meitar, former New Jersey Gov. Thomas H. Kean and Catapult Learning President and CEO Stuart Udell also received awards.
In recognizing the award recipients, Iris Chen, President and CEO of the "I Have A Dream" Foundation, said, "We are truly fortunate to honor three such distinguished leaders who are committed to improving the education of our young people. Their bold and innovative thinking along with their leadership and conviction—all on behalf of the nation's most under-served students—have moved us closer to our vision that one day, every child in every neighborhood will have the opportunity to achieve higher education and capitalize on their talents and passions."
About Time To Know
Introduced in Israel in 2007 and launched in the United States in 2009, Time To Know is a complete, interactive core curriculum system with a Digital Teaching Platform designed specifically for today's one-to-one computing classrooms. Through this platform, Time To Know is helping school districts improve the quality of teaching and learning, while fully realizing the vision of one-to-one computing.
Time To Know is implemented in 120 classrooms in Texas and New York and is a part of the New York City's Innovation Zone (iZone) program. For more information, please visit http://www.timetoknow.com or call 888-559-6560. Follow us on Twitter and Facebook.
About the "I Have a Dream" Foundation
Since its founding in 1981, the "I Have A Dream" Foundation has impacted the lives of more than 14,000 students in urban and rural communities, sponsoring entire cohorts of students from elementary school through high school. Upon graduation, each 'Dreamer' receives guaranteed tuition assistance for higher education. Today, more than 3,000 Dreamers are working their way to college in 17 states, Washington, D.C., and New Zealand, following the 11,000 alumni who came before them. As "I Have A Dream" Foundation looks to the future, it is building on its legacy to launch an ambitious new model to work with some of the nation's top school reformers to enable many more students to reach and graduate from college on a large and sustainable scale. For more information, visit http://www.ihaveadreamfoundation.org.
###