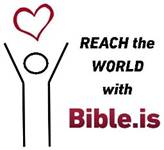 Imagine, for less than $10 people can come alongside us and partner in fulfilling the Great Commission in our lifetime
Albuquerque, NM (PRWEB) June 21, 2011
Bible.is, one of several platforms on Faith Comes By Hearing's Digital Bible Project, is asking their users to partner with them to cover the cost of recording the Alur language, spoken by more than 1.3 million people in Uganda. The ministry's average cost to record a word-for-word, dramatized version of the New Testament is $25,596. In order to keep the request reasonable, Faith Comes By Hearing (FCBH) is seeking 2,600 Bible.is users who are willing to give $9.90, which would fund three verses.
The idea behind the project is to further build community amongst their members who already have an account on Bible.is, as well as those following on Facebook and Twitter. They are also promoting this outreach via Mission Network News' Challenge for Change event, which runs through the month of July. FCBH wants those who benefit from regular access to God's Word to have the opportunity to bless others whose access is limited, if not entirely non-existent.
"Imagine, for less than $10 people can come alongside us and partner in fulfilling the Great Commission in our lifetime," states Troy Carl, the ministry's national director and architect of the Digital Bible Project. "And when the recording is done, you can actually say, 'Hey, I played a part in bringing God's Word to this people group'."
Carl explains that "as the community of believers around the world are brought closer together" through digital technology and Internet access, they are beginning to realize "the power they have as a group to impact the planet with the Good News of the Gospel."
Currently FCBH has a catalog of 553 New Testament language recordings, 218 of those languages available on the Bible.is app with accompanying text. The ministry is regularly adding language recordings from their inventory, with the goal of having all of these recordings (with text) included on the app.
The overarching goal of the ministry is to have complete New Testament recordings in 2,000 languages by 2016. In order to meet this objective, the ministry will continue to reach out to believers worldwide – like those using Bible.is – to join them in making God's Word accessible to poor and illiterate people, and all those who seek comfort in His saving message.
# # #