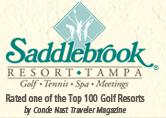 Tampa, FL (PRWEB) June 17, 2011
Saddlebrook announce the expansion of the resort's sales team with the return of three former experienced Group Sales Executives. At the same time Saddlebrook is pleased to announce the reorganization of its sales territories.
Mark Marker returns to assume the responsibility for group sales in the Mid-Atlantic territory including Washington DC and surrounding states. Mark's many years in the business, 23 of them at Saddlebrook, and his relationship building skills have earned him a huge following of loyal meeting planners and associates.
Kristen Boehning takes over the Midwest, the territory with which she is most familiar and has worked most of her career, both at Saddlebrook for ten years and elsewhere. Kristen knows a promise made is a promise kept and has the backing of both Resort Management and Ownership.
Susan Trembal, who worked at Saddlebrook for over ten years and has handled the Northeast states, returns and will share that territory with Christina Wiedersheim, who joined Saddlebrook from Marriott two years ago. Both Susan and Christina are seasoned group sales people who know successful meetings result in repeat bookings.
New additions, Mark, Kristen and Susan, along with Christina, join three long-term Saddlebrook Sales professionals.
Cheryl Jelinek, a 25 year Saddlebrook veteran continues to work the Southeast territory. Yvonne Bohannon, who has been at Saddlebrook for four years, is responsible for the Western states and Texas, and Johnnie Giffin will continue to handle the many golf and social groups Saddlebrook hosts, as she's done for the past 23 years.
About Saddlebrook Resort
Saddlebrook Resort is nestled among 480 acres of beautiful Florida countryside and is approximately 30 miles north of Tampa International Airport. It offers a wide array of amenities and facilities to its guests, including The Golf Academy; two Arnold Palmer signature golf courses; the Saddlebrook Hopman Tennis Program; 45 tennis courts, featuring all four Grand Slam surfaces; a state-of the art Fitness Center; a half-million gallon Superpool; The Spa; the Sports Village; a team-building ropes course; 95,000 square feet of meeting and conference space; and seven award-winning restaurants.
# # #