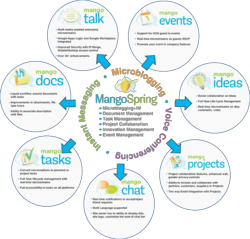 MangoApps has become core to our workflow and has been integral in enabling our team of 300+ people to collaborate more effectively, said Andi Sherwood, Co-Founder of Choffy.
Bellevue, WA (PRWEB) June 22, 2011
MangoSpring today unveiled the version 4.0 release of its popular business communication, collaboration and social networking suite. Designed to help teams collaborate more effectively, the new and improved version includes WYSIWYG Wiki, online document reader with support for over 300 file formats, new project management features (Gantt chart and time tracking), additional task management tools and new mobile applications for iPhone, iPad and Android devices.
"Everyone wants to work in an environment where they can easily share and collaborate with coworkers across the company," said Anup Kejriwal, CEO of MangoSpring. "We believe that true collaboration occurs only when employees' communication is integrated with daily workflow applications. Packaged in a highly intuitive user interface that requires zero training, MangoApps 4.0 is the industry's most advanced productivity suite."
MangoApps 4.0 adds over 100 new features and improvements to its previous release. Some of the key features that are new to version 4.0 include:
Hierarchical wikis: Create professionally formatted web documents for project collaboration cleanly in MangoApps 4.0. A simple, full featured WYSIWYG design console and the ability to save documents to PDF makes this the preferred method of web document authoring.
Document reader supporting 300+ file types: Open the most popular file types inside MangoApps with no supporting software to download or install. All versions of Microsoft Office, all common image file types, and even AutoCAD documents can be quickly opened and viewed with zoom and document search capability inside MangoApps.
Gantt chart: The Gantt chart is the most prevalent visual analysis chart type for scheduling and time management and it makes its debut in MangoApps 4.0. See when tasks start, finish and overlap, then quickly view the entire task details in a single click.
Recurring tasks: Everyone has tasks they do repeatedly as part of their daily workflow. MangoApps 4.0 now supports creating and managing recurring tasks from the web or from the Desktop Client.
New MangoTalk & MangoTask Applications for iPhone, iPad and Android devices: When users are on the go and just want to access their status updates or task updates, MangoTalk & MangoTasks stand-alone applications for iPhone, iPad and Android are a great solution.
"MangoApps has become core to our workflow and has been integral in enabling our team of 300+ people to collaborate more effectively," said Andi Sherwood, Co-Founder of Choffy. "As Choffy is dispersed over 5 time zones, MangoApps really is a life-saver. Best of all, since the entire MangoApps suite is fully hosted, we don't have to worry about maintaining hardware, which has helped to significantly reduce our total cost of ownership."
MangoApps 4.0 is an integrated suite of social communication and productivity applications, which includes its flagship communication platform, MangoTalk. In addition to MangoTalk, MangoApps includes several other powerful collaboration tools to help teams manage tasks, projects, documents, ideas and events.
MangoTalk – Provides microblogging and secure instant messaging that allows users to communicate and share information within a powerful, private and secure social network.
MangoDocs – Provides document management functionality to the entire company. Employees can upload documents, leave comments for authors, request updates, or follow a document, knowing that they always have the latest version.
MangoTasks – Provides task management for every employee. Knowledge workers can keep track of their specific tasks and managers can assign work and follow employee progress, making status reports a thing of the past.
MangoProjects – Provides project management capabilities, allowing employees to focus teams on a specific goal, assign tasks, and upload documents. Teams can chat publicly, instant message privately or create instant polls all with a single click of the mouse.
MangoIdeas – Provides a workflow to capture ideas from across the company, allowing public discussion using microblogging while encouraging fresh and innovative ideas to new projects.
MangoEvents – Allows companies and employees to plan and organize events like team summits, company meetings, training sessions, business trips and office parties.
In addition, unlike other collaboration solutions, version 4.0 of MangoApps allows users to purchase applications in an a-la-carte fashion. Since many teams are not comfortable committing themselves to an entire suite of products all at once, this allows them to use just what they need and add more functionality as desired.
About MangoSpring
Founded in 2007 in Bellevue, Washington, MangoSpring is a privately held company that transforms the way teams work together. The company's suite of online applications called MangoApps enable businesses to improve productivity and execution. MangoApps currently serves over a million unique users a month and have already been adopted by over 3,000 businesses and departments within enterprises in a wide range of industries, including technology, media, finance, health, education, non-profit and government. For more information please visit http://www.mangospring.com.
###