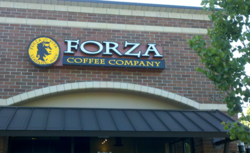 We teach our baristas how to learn the names of our customers. That's the kind of attention customers want; they don't get that at other coffee retailers.
Tacoma, WA (PRWEB) June 20, 2011
"Be the center and strength of your local community". That is one of the core values and operating principles of the Forza Coffee Company.
The specialty espresso retailer based in the Puget Sound Region (Seattle-Tacoma) of Washington State is looking to expand in key cities and regions throughout the country. After 2.5 years of operating and fine-tuning its business model in the highly competitive and coffee centric Seattle region, the company is now ready and anxious to introduce itself to neighborhoods, suburbs, cities, across the United States.
Rich Jennings, CEO and Managing Partner of Forza, and his team are very familiar with franchises as they have successfully owned several over the past decades and they have done consulting work for many others. Forza, like other franchises, is built on sound business practices and an inviting brand image; but its character, heart, and purpose revolves around the local community in which it resides.
Forza, in Italian, means "Strength".
"It's the kind of strength that comes from within; that creates the community where neighbors wave to one another and support each other. Where friends and family meet several times each week." Jennings says while sitting in one of the Tacoma-area shops.
Looking around, it is common to see business meetings, Bible studies, students studying, workout groups, all taking a moment out of their hectic days to meet and gather in a warm and welcoming environment. The design of each store is intentional – come in and visit, recharge, and stay awhile. Everything about the store layout, its products, its staff training, is designed to create a consistent "Forza Experience."
The community has noticed. For the last three years, Forza Coffee has been selected for the South Sound Magazine's "Best Of the South Sound" in the coffee shop category.
In Italy, neighborhoods are filled with places where people gather throughout the entire day and evenings. Likewise, Forza customers enjoy espressos, cappuccinos, breakfast backed goods, panini sandwiches, desserts, and local wine selections.
Forza is poised to offer this same model to those first time business owners or to established, successful community oriented business owners. Forza is an ideal fit for future franchise owners who are active in their churches, the local PTA, the Chamber of Commerce, nonprofit organizations, etc.
Erika Lowery, Director of Franchise Business Development, says the Forza franchise model is accommodating for both first-time business owners and those with extensive professional history. "We have owners in our system who have never owned a business before. We provide the support they need, from business operations, marketing, and coffee training – to get up and running. Likewise, some operators have been in the business world for decades and decided to do something that truly is fun and more family oriented."
The fun comes from the interaction with customers, "we teach our baristas how to learn the names of our customers. That's the kind of attention customers want; they don't get that at other coffee retailers."
Forza Coffee Company, which operates 22 retail stores in Washington State and one in Westminster, Colorado, is looking to expand throughout the USA, but specifically, it has targeted the following cities for stores in the next 12 to 18 months:

Chicago, IL
Austin, TX
Houston, TX
San Diego, CA
Sacramento, CA
Phoenix, AZ
Portland, OR
Spokane, WA
Denver, CO
Las Vegas, NV
New York, NY
Maui, HI
Franchise prospects must meet certain requirements to be considered; including the ability to secure approximately $350,000 to $400,000 in capital to open and operate its first business.
"We have structured our model to be partnership friendly" Jennings says, "one person can bring the day-to-day operations and service component, while another is able to secure funding and manage the financial aspects of the business." Forza also assists with design and construction elements and commercial real estate assessment.
If you are interested in discussing franchising opportunities, contact Director of Franchise Business Development, Erika Lowery by phone at: 619-33F-ORZA (619-333-6792), by email: Erika(at)forzacoffee(dot)co or, by going to: http://www.ForzaFranchise.com
###