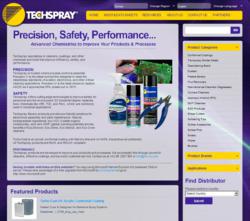 Every function in Techspray's new website is designed to get you to the product information you need as quickly as possible.
Amarillo, TX (PRWEB) June 18, 2011
Techspray announces a new improved website for http://www.techspray.com. This site is brand new, built from the ground up to make product research lightning fast. Find the best degreaser, defluxer, conformal coating, soldering equipment, and other products for your needs with just a few clicks of a mouse.
All the information is database driven, so guaranteed to be the most up-to-date data available. To locate product information, you can do a keyword search, search by product categories, brands, or applications.
Tech Data Sheets (TDS) for all products are automatically built on demand from the latest data.
For those in Canada or Europe, there is a way to filter and only display products available in those territories.
Frequently asked questions are searchable by product and continually updated as new questions are brought to Techspray's technical support team. This is ideal for highly technical products like conformal coatings and aviation cleaners.
Techspray's new website includes a library with the latest flyer PDF's, presentations, white papers, and regulatory documents. If personal help is needed or if you are ready to buy, a searchable database of manufacturer's reps and distributors is available at your fingertips.
Techspray formulates, blends, and packages a wide variety of chemicals and assorted support products for the electronics industry, heavy industry, and plant and equipment maintenance including degreasers, defluxers, conformal coating, dusters and water-based cleaners.
For more information, go to http://www.techspray.com or call 800-858-4043.
###