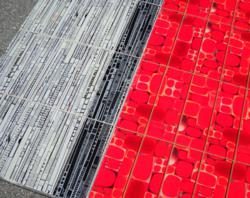 I wanted to work with modwalls because, they're so creative in their approach to wall tile -- especially in their use of color and design.
Los Angeles, CA (PRWEB) June 20, 2011
Modern tile manufacturer and retailer modwalls® "Making Tile Modern," and fine artist Rex Ray of Rex Ray Studio have developed Rex Ray Studio for modwalls®, a collection of original Rex Ray designs kiln fired to the back of modwalls Lush® glass tiles. The stunning tiles resulting from the joint effort will debut at Dwell on Design in Los Angeles, CA, June 24-26, 2011, booth #1030.
Northern California-based modwalls, known for their modern tiles and artistic collaborations, is taking San Francisco based fine artist Rex Ray's striking graphic designs and kiln-firing them onto the back of their Lush glass tiles. The unique tile creations resulting from the effort are impressive and absolutely singular.
The first of the Rex Ray Studio for modwalls collection set to debut at Dwell on Design includes three designs on Lush large format 4"x12" glossy glass subway tiles. The collection includes modern typeface "White TYPE" and "Black TYPE" tiles, as well as "Orange MOD," a vibrant, bold and completely original Rex Ray Studio design. Each colorway includes 6 unique tiles. Arranged together, Rex Ray's remarkable designs are fully displayed across a 2 square foot area creating a show-stopping wallpaper effect. Tiles can be mixed and matched as well to create a custom design using all 3 colorways.
Rex Ray Studio initiated the partnership with modwalls almost a full year ago. "I wanted to work with modwalls because, they're so creative in their approach to wall tile -- especially in their use of color and design," artist Rex Ray said about the collaboration.
He continued, "We've been able to develop a collection of tiles that truly reflects my aesthetic. I like being able to translate my work to different media."
For modwalls, the partnership was a dream come true. Co-Founder and designer Rebecca Lonergan has admired Rex Ray's work for years, and the business owner states, "We're thrilled about our collaboration with Rex Ray Studio; together we've created exactly the type of product we love: one-of-a-kind, completely striking, and really on the edge of what's current in modern design. It's been a fun process translating his fine art into an approachable material; the tile is so original and exciting!"
Lonergan went on, "We love to promote good design through creative partnerships. This collaboration was an opportunity we couldn't pass up."
For Rex Ray, the tile collection has provided a vehicle for the artist's work. "I've wanted to move my work and my aesthetic beyond the gallery and into peoples homes and my modwallls collection allows me to do that."
Please visit modwalls at booth #1030 at Dwell on Design to see the Rex Ray Studio for modwalls collection.
Complete product information is available at http://www.modwalls.com/RexRay
About modwalls
Modwalls is "Making Tile Modern" with unique and colorful designs and a hassle free online buying experience. Founded in 2005 by husband and wife team David Bousfield and Rebecca Lonergan, the couple used their experience in the Silicon Valley high tech sector to develop an online method of selling a typically brick and mortar product. Frustrated with limited tile options for their own remodels, the pair began creating unique glass mosaic blends inspired by mid century architecture and modern design and developed an online tile blender so that customers could design their own glass tile blends. They then partnered with the non-profit HOPE Services to produce the custom tile blends locally with the help of HOPE's developmentally disabled clients. The company has since expanded to other tile materials including recycled glass tile, cork mosaics and porcelain penny tile. Now recognized as an industry leader, modwalls products are featured regularly in publications like Sunset Magazine, Luxe, Dwell, This Old House and Atomic Ranch. Modwalls fosters great design through creative partnerships such as the Henry Road for modwalls glass tile collection and the new Rex Ray Studio for modwalls and Clayhaus for modwalls collections, both launching in 2011. Modwalls products are available 24/7 at http://www.modwalls.com.
About Rex Ray Studio
Rex Ray's artwork ranges from collage on paper, canvas and resin boards to digital work. Ray's work is made entirely by hand. The collages are made with hand-painted and printed papers hand cut with scissors. His work combines a mid-century modern aesthetic with psychedelic color palette and shapes. Ray is known for popularizing the use of high-gloss resin panels – encasing his colorful, graphic collage designs in a gorgeous glossy layer of resin. Abstract and handcrafted, with a retro-futuristic feel, Rex Ray's work is always identifiable, whether seen on museum or gallery walls, in hip restaurants and boutique hotels — or on book, CD covers or rock posters. He has worked on a wide range of custom projects for Apple, Dreamworks, Swatch and David Bowie among others. Ray's vibrant designs will soon be expanding into home decor, accessories, and limited edition products. Ray's collages, paintings and design work have been exhibited at galleries and museums, including The San Francisco Museum of Modern Art, San Jose Museum of Modern Art, The Crocker Museum in Sacramento, and Museum of Contemporary Art, Denver. http://www.rexray.com
###