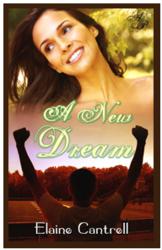 A NEW DREAM is a wonderful contemporary romance with heartwarming characters and heartfelt moments. Romance Junkies Book Reviews.
Pickens, South Carolina (PRWEB) June 20, 2011
Hometown hero Matt McCallum achieves his dream when he signs a contract to play football for the Green Bay Packers. At the end of his rookie year he kicks the winning field goal in the Super Bowl.
His dreams come crashing down one bright summer evening when a deer runs across the road in front of his car. As a result of the ensuing accident, Matt's right leg is amputated.
After a stint in rehab, he takes a job managing a supermarket where he meets Violet Emerson.
Violet works in the bakery department, but her dreams carry her far beyond the doors of Chef's Pantry. As soon as she can save the money, she plans to open a catering business. And she thinks the new manager's broad shoulders and blue eyes are simply divine.
Thrown together at work, Matt and Violet find love and a common dream for their lives, but a loose end from Matt's past returns to jeopardize their future. Will love be enough to save their new dream before it turns into a nightmare?
A New Dream is available as an ebook at Astraea Press for $5.99. ISBN 978-1-936852-12-3
Print copies are available at Amazon for $13.99. ISBN 13 978-1461091042
Also available at http://www.smashwords.com/books/view/49490
About the author:
Elaine Cantrell was born and raised in South Carolina. She holds a Master's Degree in Personnel Services from Clemson University and is a member of Alpha Delta Kappa, an international honorary sorority for women educators. She is also a member of Romance Writers of America and EPIC authors. Her first novel, A New Leaf, was the 2003 winner of the Timeless Love Contest and was published in 2004 by Oak Tree Books. At present she teaches high school social studies. She spends her spare time collecting vintage Christmas ornaments, reading, and playing with her grandchildren. Visit Elaine at her website.
# # #