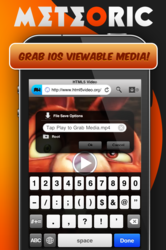 Grabs more than just your Attention
Dallas, TX (PRWEB) June 22, 2011
Meteoric has just been approved by Apple & will be launching soon in the App Store.
Meteoric Download Manager for iOS is amazingly fast, feature rich and has a stunning UI. Below are the top ten reasons why it can redefine downloads.
1. Media Grabber - Meteoric can intercept & grab almost all iOS playable media.
2. Custom API's - Custom built API's of Digital Poke allows long tapping on tables, dynamic drop downs, extended feature sets which enables an advanced yet simply clutter-less interface.
3. Insanely Powerful Download Manager - Accelerate downloads (when supported), queue, pause, resume, fetch file name from server response and real time information of the file.
4. Robust File Manager - Meteoric consist of a File Manager which does more than just normal operations. Zip folders, unzip/unrar files, restore user's time capsuled bookmarks and play any iOS supported files in file preview along with airplay support for media files.
5. Firefox Sync - Meteoric is the only download Manager that supports Firefox Sync. Meteoric can sync user's desktop open tabs, bookmarks and history.
6. Dropbox Integration - Meteoric has dropbox integration which allows users to upload their downloaded files to their dropbox account via File Manager.
7. Media Player - Media Player comes inbuilt in Meteoric which lets user play mp3 files store inside Meteoric, form play-list along with background audio support.
8. Magic Bar - Magic Bar allows users to instantly view their bookmarks / add bookmarks via a toggle-able bookmark bar which can be executed by pulling the web page down and releasing it.
9. Plugins - Plugins are short snippets of code which allows Meteoric to extend its functionality.
10. Live Streaming - Just create a Web Server via downloads module and stream all the files to any device, computer, etc. The only requirement is a same Wi-fi network and a browser-enabled device.
Digital Poke is also giving away exclusive pre-launch copies to media to show case their product which can be acquired by writing to them.
Press Package
You Tube Channel
Meteoric App Store Link (will get active after launch)
# # #